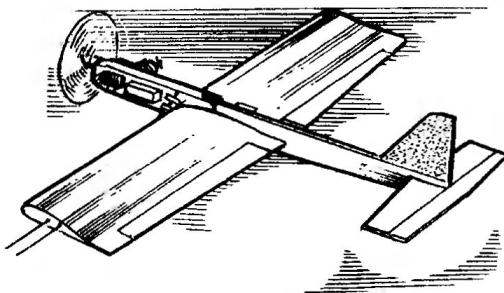 In aircraft modeling group of the Moscow city Palace of creativity of children and youth members with a passion to build kordovye aerobatic model aircraft class F2В. Participating in competitions on aviamodelling sports, they repeatedly occupied prize-winning places. Offer one of their models. It is interesting because it has some design differences from the previously constructed pilotage. First, the profile of the wing she's got a teardrop shape, and second, the spar passes inside the profile.
In addition, the model is made of nedifinita materials, such as pine, Linden or aspen.
The build started with the forward fuselage. Its thickness is 9 mm. it has cut-outs under the engine, wing and fuel tank. Both sides of the nose portion is reinforced with plywood plates having a thickness of 3 mm, a bit for setting the front edge of the wing. In order to avoid distortions, this work was carried out consistently. Was first glued one strip, and when the glue has dried, the bow as a template, carefully made cutouts. Then did the exact same thing with the second pad.
The aft fuselage consists of two pine or Linden slats. Their section at the beginning of 9×6 mm, and 6×6 mm. the end of the Top rail runs the entire length of the fuselage. Lower a bit shorter and starts at the cutout under the fuel tank. Both rails glued to the bow. The fuselage tail ends with a boss from pine wood (Linden) with a slot width of 3.5 mm under the stabilizer. In the space between the nose and the tail boss glued bracing section 7×3 mm.
All parts are mounted on the epoxy EAF.