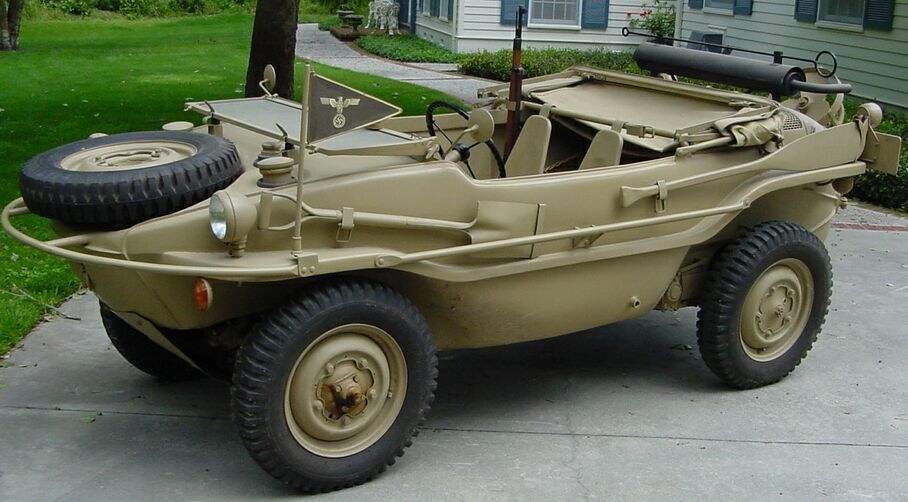 Amphibious Schwimmwagen (Volkswagen Typ 166) — German floating four-wheel drive all terrain vehicle for military use, developed on the basis of "national" Volkswagen Beetle and army all-terrain vehicle VW-82 "Kubelwagen". Produced from autumn 1942 to the summer of 1944 to the Wehrmacht and the Waffen SS instead of heavy motorcycles with sidecar, appeared on the Eastern front because of low passability on the roads, and especially in slush.
It was made of such vehicles in excess of 14,000 pieces. For a good landfall, engineers developed a front-wheel drive transmission (typical Schwimmwagen and Volkswagen Beetle had a rear-wheel drive), working together with the reduction gear. Engine 4-cylinder, carbureted, with a power of 25 HP transmission 5-speed. Crew – 4 people.
Military vehicle amphibious SCHWIMMWAGEN: -3825 length mm, width – 1480 mm, height – 1615 mm; weight – 910 kg; load capacity of 435 kg; the speed on the highway – 80 km/h on the water – up to 10 km/h; cruising on the land – 520 km.
Recommend to read
TURTLE, LATE FOR WAR
1942 the British General staff attended to the question: "How should a heavy "assault tank", able without harm to themselves to act at the head of the offensive orders troops?" At that...
RISING ABOVE THE WAVES
The day was cold, the autumn; the sea was rough. Gathered on the dock quietly talking, glancing at the captain of the ship.   — Surely in this weather come on!   — And how! —...