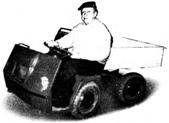 The constructor of this truck — Eugene N. Evsikov already familiar to our readers for the publication of "Plows, carries and even sawing" (see "modelist-Konstruktor" No. 5 for 2002). In the article they talked about made them little tractor. Now we present another one of his car — mini truck.
Evgeniy N. — senior designer with 40 years of experience of the famous helicopter plant. Mil. Designed and built an electric truck is under be the rotary-wing machines — reliable and practical. In addition, it reviewed the simplicity and accuracy that ensured consistency and quality of execution of each node. The first time the photo of the mini-truck was published in the "Model designer" № 6, 2002, under the category "Panorama photos of readers 'letters".
What cars and trucks did not create domestic designers and designers, from chic "front-away" limousines to the "ascetic" sport buggy, from heavy draught horses to the rapid "gazelles".
However, machines for the farm, so to speak, prislonnyh is a small, simple, reliable and inexpensive that it is not visible. Fit the constructors for these purposes, "Jiri", "Muscovites", "Lada", altering them in pikapika. But the price of cars remains the same as with cars — not everyone, and not everyone will dare to carry them in bulk sand, bricks,soil and other such goods. Yes, and they are not adapted for movement on country roads with small speed. In this position, unless the motor scooter cargo "the Ant" can help out, but it has a downside: air-cooling engine, small power, position steering wheel in the middle of the track, an open chain drive.
Manufacturing such machines for agriculture industry to establish cannot or does not want, considering it is a niche that apparently unpromising. But in my own experience I know that this truck would be useful not only to gardeners but also for rural residents in the backyard.