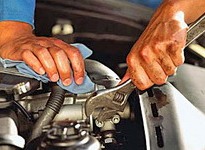 If your car begins to deteriorate the acceleration performance, then the conclusion – it's time to clean the injectors. But many motorists still prefer to do their vehicle themselves. Many even invent their own mechanisms to obtain good results.
What you will need to create a mechanism cleaning the nozzle
To clean, you should stock up on:
tool-cleaner, socially designed for carburetors;
 
an ordinary button, not have any fixing (you can even use the button from the computer mouse, if you have old);
 
power supply from a charging cell phone from 4.5 to 9.5 volts;
 
four terminals;
 
a syringe with a capacity of five cubes;
 
empty plastic container.
In the syringe, it is desirable to insert the tube or coil FUM-tape to seal it even more. Such an operation could hold diesel service Kiev, by the way, offers it to everyone.
How is going the entire device
Syringe fits over the nozzle, ring, possible without, but would the diameter of the syringe was enough for a snug fit. Next to injector plug terminals procured. The button is also attached to the terminals. Turning on the power. Pressing the button, we should hear the injector open.
The next step is connected through the tube of the syringe to the container with cleaner. The junction should be sealed, for example, there wound insulating tape. Pumped into the syringe liquid, and then click open the injector. Happens cleaning. The purifier will pass through the syringe to the nozzle, subject to your button. Direct the output jet of air from nozzles in an empty plastic container.
If you need repair of common rail injectors, such work is better left to professionals. They have the experience and all the necessary tools.
S. ROMANOV
Recommend to read
MERCEDES-BENZ F400 CARVING
For the first time this car was unveiled at the Tokyo motor show 2001. The uniqueness of its layout and design decisions caused considerable interest in the new company Mercedes-Benz. ...
PARITEL ' CLASS F1А
What models of gliders was not in the sky above the sports airfields! Short-tailed side by side with these, whose stabilizer it seemed unreasonably far related from the wing, the search...