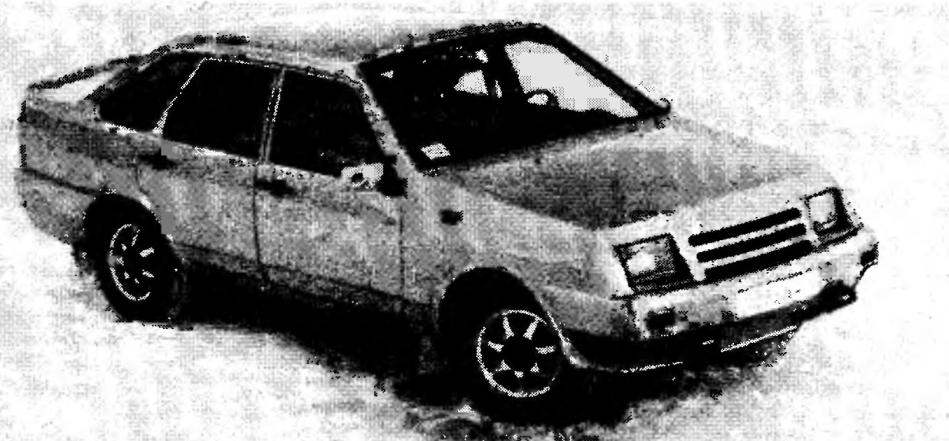 There are few enthusiasts, capable in difficult conditions to undertake the construction of a homemade car. To undertake and perform the scope of work for the design, construction and debugging, which forces only the factory design Bureau. Especially such a vehicle which offers the readers the author from Tyumen A. A. KLUNK (see photo on the cover of "Modeller-designer" No. 10 of 1996). His Laguna looks attractive even with the abundance of the streets cars of the most modern brands. The local wits say about the creation of his countryman: "Car? "Nine"? "Carlotta"? No, guys, hand-job!"
But Laguna stands out not only in appearance. Closer in size to the Volga, she mass remains in the class of "Moskvich". The secret is that, in addition to "moskvichova" and "Zhiguli" of the units, the machine is widely used composite materials, mainly in the removable body panels.
It is difficult to judge how this design is better than traditional and how long it will serve its master. However exploited, "Laguna" and a half years, and, apparently, the average life cycle of car factory made it will. At least until now, according to A. A. Klunk, significant there was no damage or hidden defects not detected.
I hope that the design achievements of our author will bring some sensible thoughts, others will suggest a way of solving any technical problems, and the third may give courage and determination to realize his dream.
In a good way!
The traffic police my car was registered on 16 August 1995. And already the 17th in the morning my whole family went to travel on the route Moscow — Ufa — Naberezhnye Chelny — Tolyatti — Tyumen. Two weeks clocked on the speedo the first 4 thousand miles.
Scary to embark on such a long rally on a new, completely neobkatannaya car? No, because he was one hundred percent confident that the Laguna will not disappoint. After all, every design element, every possible nuance of its behavior on the road, I carefully figured out in advance and did nothing anyhow, at random. Mileage shown: "Laguna" is a very reliable, economical and user friendly car. During the trip not happened a single failure. Fuel consumption on the highway amounted to only 8.7 liters per 100 km. Amenities can be appreciated only ride on the "Lagoon". Tyumen journalist S. September, participating in road tests, described her experience: "On my way, I tried to listen to… aerodynamic noise and the behavior of the car on the road. We drove, though not fast, but up to 80 km/h in the car was quiet. If it's not full-proof aerodynamic purity (at this speed in the classic "Lada" is quiet), then, at least, talked about the fact that the apparent errors in the design and calculations no. As for the ride and "road holding" factors — the expansion of the gauge and increase the base (the dimensions of "Laguna" is comparable to "the river", but it is 200 kg lighter! — Ed.) justified: the machine goes smoothly, confidently enough, not jumping from side to side… the suspension I would subjectively rank above "volgovskoe"…"