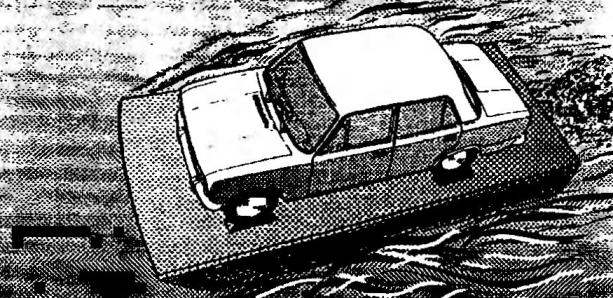 Good to live on the banks of the wide flowing river! However, this convenient transportation artery often becomes an annoying obstacle to communication between villages. Motorists sometimes have to travel to the city or village across the river for a few hours. Of course, you can take the boat or the boat, but then on the opposite shore will have to walk…
In such cases, nice to have a self-propelled pontoon, which is used drive the engine of the vehicle, and to control the course of his steering gear. You coming on to shore for a simple ramp enter on the pontoon and fix it on the car. All you can leave! Start engine, turn on the speed and the left wheel, stretched on two reels starts to rotate, driving the propeller associated with the shaft of the drum bevel gear. You need to turn?
You touch the wheel, the front wheels are moving together with the reference sites, located on the rotary device, moving the steering is feather bound by smartresume and rigid rod with the lever left of a reference platform. Well, if you need to slow down, engage reverse gear and full throttle!
At this pontoon, you can go quite a long swim, however, with one significant condition; on the end of the route shore should be such as to be able to move out on his pontoon, and then just as easy to boot back up.
To make such a pontoon can be from almost any available material.
Well, of course, make it of sheet steel, but easier to assemble wooden frame construction with sheathing of plywood.