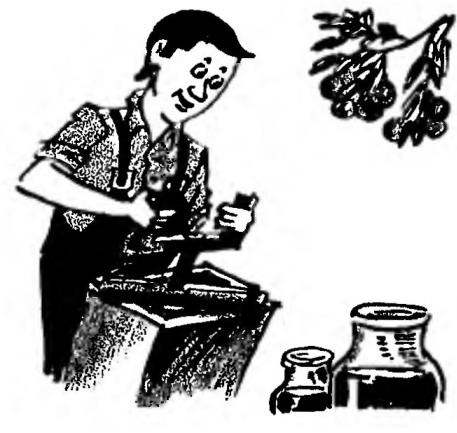 Juice — Jack" was the name of the material published in the "Modeller-designer", No. 4, 1998. I liked the simplicity and originality of the proposed technical solutions.
However, I prefer instead of the Jack to use with a special machine adequate for household performance. All costs for the manufacture of such a mechanical assistant pay off pretty quickly, and the quality of the juice does not raise any problems.
The basis of a homemade juicer — manual screw press. Raw materials, such as crushed apples, laid in the tank on a rotating frame fixed in time. A big part of squeeze juice into the cavity, which separates the pulp from the perforated pallet with a net, and a smaller filtered through forming a circle with the same mesh and the hose drains into a receptacle (not shown). The pulp remains clamped between the grids and removed only after draining of the juice.
The design of the unit is designed for the modest capabilities of the home workshop and does not require turning operations. Just need a welding machine (made, for example, on development, published in the journal "modelist-Konstruktor" No. 1'97) Yes, a few selected scrap materials, including lead screw with nut.