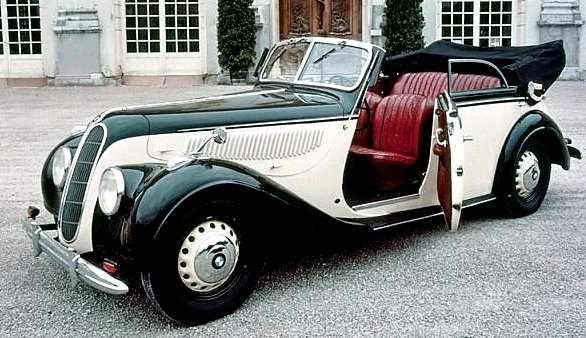 The production of cars, the German company Bayerische Motorenwerke started only in 1927, when the factory gate in the city Eisenach left the car BMW DIXI. Compact and inexpensive car helped the firm to overcome the great depression of 1929 and acquire a well-deserved popularity among buyers. But a breakthrough in the leaders of the global car industry has contributed to the firm's BMW two-seater sports BMW 328, which appeared in 1936, the Machine was equipped with two-liter inline "six" with a capacity of 80 BHP and a top speed of 150 km/h. its design is based on principles, which later became a classic in the design of sports cars: in accordance with the basis of the car was a tubular frame on which is mounted the body panel.
In 1938, the firm launched production of a solid BMW 335 sedan with 3.5 liter engine capacity of 90 HP With the portion of the issue (40 copies) was a four-door cabriolet, the body of which was designed by the Swiss design Studio Gräber.
BMW 335 had polonesse body with integrated into its bottom frame, the front suspension was semi-on transverse leaf spring, rear — torsion. Steering gear — rack and pinion type.
BMW 335 GRABER CABRIOLET: engine — inline 6-cylinder, the working volume of 3,458 l, capacity — 90 HP maximum speed-145 km/h.
Recommend to read
ELEGANT NATASHA
In recent years, publication in the journal "modelist-Konstruktor" of the Amateur autocostruzione Willy-nilly suggests that homebrew almost refused to create a full character, complexity...
HONDA CIVIC
The Japanese company Honda Motor every four years, represents a radical new family car HONDA CIVIC, IN September 1995, the firm unveiled at the IAA'95 the sixth generation of these cars...