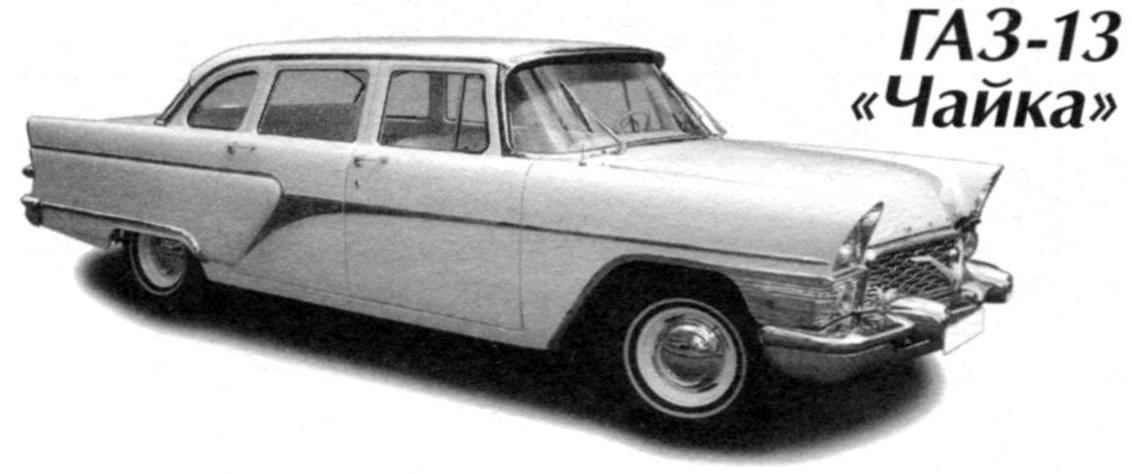 If at the end of 1940-ies of the GAZ-12 ZIM looked quite stylish, at the end of the 1950s from its former glory and left no trace.
That is why the designers of the plant had to create an entirely new Executive car, called the GAZ-13 "Chaika".
The new car received a completely new, specially for her designed engine — V-shaped "eight". The engine was equipped with four-chamber carburetor. For "the Seagull" was designed hydro-mechanical automatic transmission with push-button gear selector range operation of the transmission.
The car was equipped with power steering, vacuum booster brakes, electric Windows and radio.
Two first running sample of "the Seagull" was collected in 1957, after which he began assembling a pilot batch of cars for the state tests. A year later, one of the pilot cars were sent to Brussels, at the EXPO"58. The serial production of GAZ-13 "Chaika" was started in January 1959.
In 1961, he developed a variant of the GAZ-1ЗБ with a body "convertible" with folding canopy with electro-hydraulic drive. The last GAZ-13 descended from the factory conveyor in 1978.
GAZ-13 "Chaika":
length 5600 mm;
width — 2000 mm;
height — 1620 mm;
ground clearance — 180 mm;
wheelbase — 3250 mm;
front track — 1540 mm, rear — 1530 mm;
own weight — 2100 kg;
fuel tank capacity: 80 l;
the maximum power of the engine 195 HP;
the maximum speed of 160 km/h.
Atideo:
Recommend to read
"DIPLOMAT" FOR INFLATABLE
Free time, whether it is a holiday or weekend, we as a family try to spend Hiking: Hiking and Biking, road and water. Visited the Baltic States, Karelia, the Crimea, the Caucasus, in the...
TURBINE IN THE FIELD
Existing disk device for mechanized spreading of fertilizers do not always provide the uniformity and range of distribution of fertilizers on the field.   Young innovators of the...