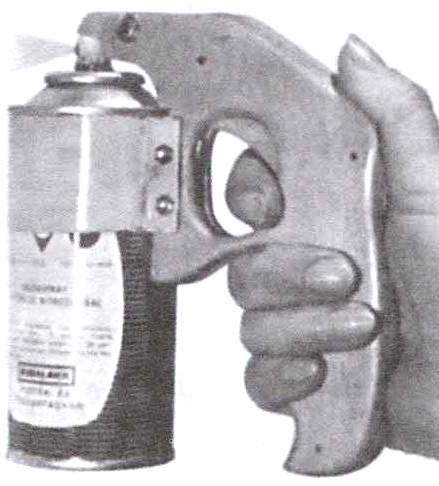 The words "paint", "paint" and "beauty" is not accidental cognate: new color allows you to see the subject in a new way, decorate it, make it brighter, more colorful. That's why products from a variety of materials need painting, and for this purpose, a plurality of colored compositions and methods of their application. The old methods remain in force today, but they are very much soiled: clothes painter or carpenter because of the inevitable stains on it sometimes resembles an artist's palette.
That's why among modern staining became very popular and aerosol dyes: convenient, virtually no soiling working with them, gently spraying at low pressure the paint is Packed in a stable and ultimately saving it in small cans. Only one drawback: the hand is not very easy to hold spray and press with your finger on the valve of the spraying, especially when large volumes of work. However, it is disposable, if you make the balloon, as proposed by the Hungarian magazine", Earmaster", universal pistol grip. The device is very simple and can be played on their own any home master, especially because all the elements are easy to fabricate from readily available materials.
If you analyze the sample
Like small arms, which is easily assembled and disassembled, the pistol grip can also be quickly divided into components and, therefore, easily build yourself this useful device. Metal there only two parts: a metal bracket and steel flat spring for the trigger. The rest of the elements can be cut with a jigsaw from a sheet of plywood with a thickness of 5 mm.