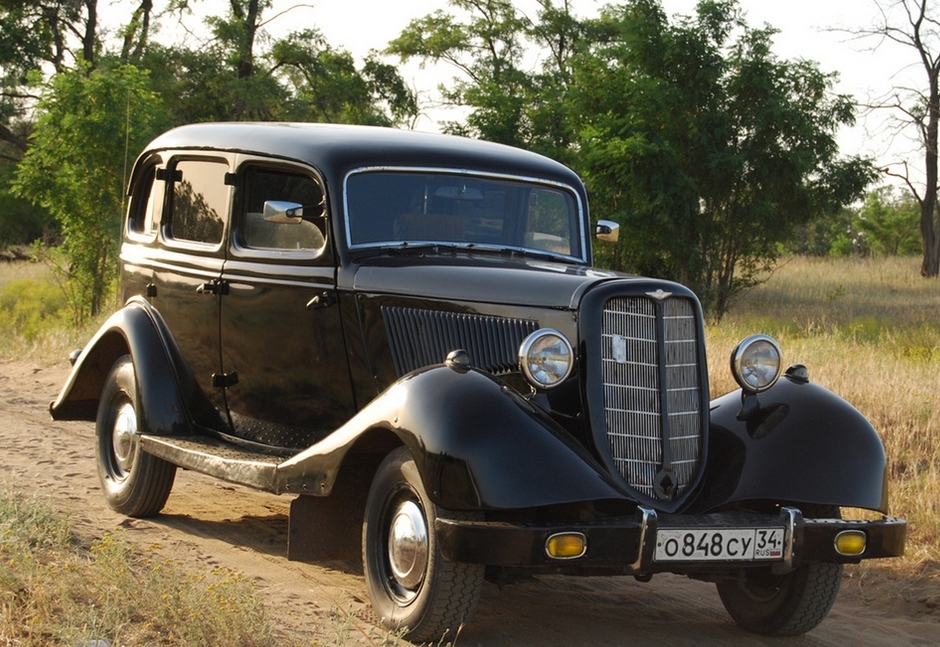 This car rolled off the Assembly line of the Gorky automobile plant, sixty-six years ago — in March 1936, succeeding produced there the first mass Soviet passenger car GAZ-A. the Basis of the new car was the Ford V8, which replaced the suspension (instead of the transverse springs Gorky made a lateral). The motor "m" used from the previous model, and after upgrading he developed a power of 50 HP, driving the car to 105 km/h.
Compared to the previous model with an open body "Phaeton" and folding canopy, a new car with a five-seat all-metal body-sedan was not an example of more comfortable.
The car was produced and called GAZ-M-415 in the form of a truck-pickup truck. Further development of "emka" was in 1940, the car GAZ-11-73 with the more powerful (76 HP) 6-cylinder engine. The car got a new grille and a modified form of the vents on the hood sides.
A lot of "emok" was produced in the protective coating — before the great Patriotic war in the army, there were about 10 thousand of these machines. On the basis of GAZ-M-1 in 1936 produced light armored cars BA-20 with a 7.62 mm machine gun. And in 1941, on the basis of "emka" was mass-produced four-wheel drive car-vehicle GAZ-61.
Recommend to read
FORD F-150 PICKUP
F-series pickup trucks are popular in USA light utility vehicles. Buy them and as transport for business, and as a Supplement to the passenger car family for the solution of transport...
MOSKVICH-407
After the great Patriotic war the plant named Kim (Communist youth international) was renamed MZMA — Moscow plant of small cars. At the same time, there have mastered the production car...