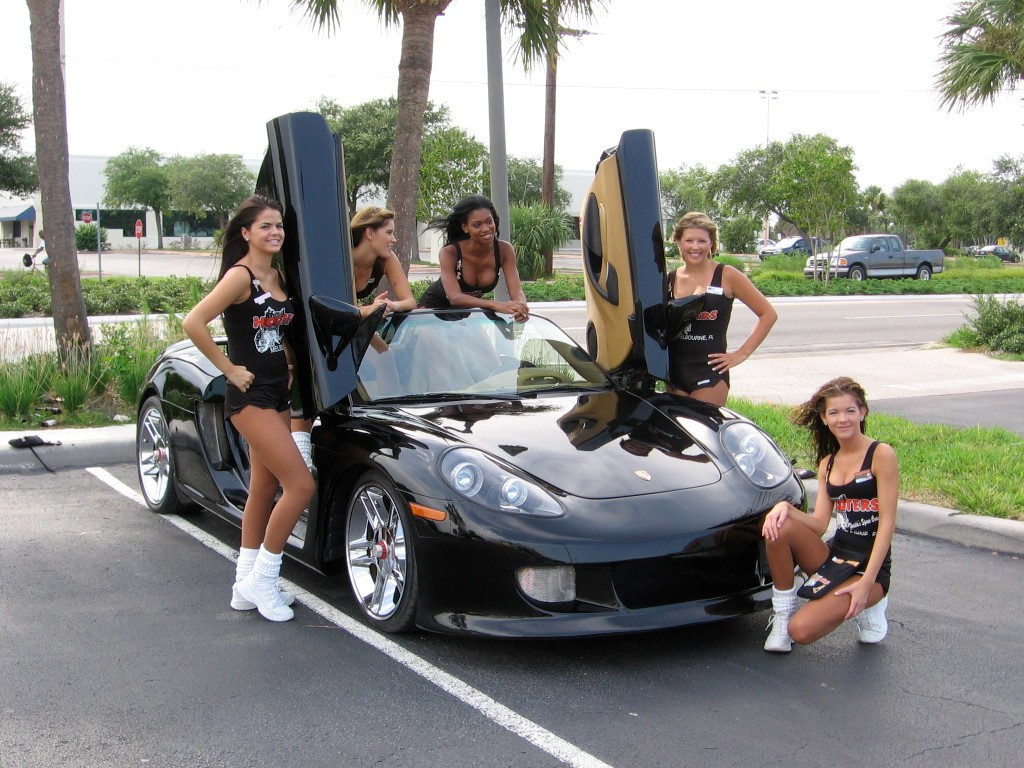 The first car brand PORSCHE 356, released on 8 June 1948, was a two-seat Roadster created using components and assemblies of the legendary "Beetle". And in 1951 started his career as a sports PORSCHE with a 44-strong engine working volume of 1100 cm3, which developed a speed of 160 km/h.
In the late 50-ies of the sliders PORSCHE 718RS various modifications dominated the class vehicles with engine capacity up to 1500 cm3.
In the history of world Motorsport included victories in the race "Mille Miglia", the "Targa Florio", the "Carrera Panamericana" and in Le Mans the following legendary cars: PORSCHE 718 RS SPYDER, PORSCHE 904, PORSCHE 910/8 BERGSPYDER, PORSCHE 908 SPYDER and the PORSCHE 917.
The latest sports car company — PORSCHE CARRERA GT (carrera. — "the race"), first shown at the Paris motor show in 2000. The basis of this double machine — power spatial frame of aluminum profiles and the bearing body, molded from the most modern composite materials. Behind the seats is a 10-cylinder V-engine with a power of 558 BHP and torque of 600 N·m Clutch three-plate, transmission — six-speed manual. Wheels are 20-inch, spring suspension located horizontally coaxially with adjustable dampers. Brakes with ceramic discs, which are two times lighter than steel and significantly better at high temperatures.
The estimated maximum speed of the PORSCHE CARRERA GT 330 km/h To 100 km/h Roadster accelerates in less than 4 seconds, and to 200 km/h for 10 seconds.
It is interesting to note that at speeds over 120 km/h in the Central part of the rear spoiler automatically rises up, working like a wing to improve contact of the drive wheels with the road.
The car's interior is designed in the style of "techno". To adjust the seat enough to pull mounted in the seat cushion aluminum arm — the electrical systems will do this silently and smoothly. The machine is equipped with front and side airbags.
The instrument panel is electronic, with a large tachometer dial. It is possible to bring almost any information — from the frequency of the radio station to oil pressure in the system.
Serial production of the new PORSCHE began in 2003, only produced about 500-700 thousand German marks.
Recommend to read
THE BALLOON STILL SERVE
No matter how much ironic humor about the use of out-of-date things in a new way, the soul of samuelidisa will not allow him to throw away what may still be useful in the economy. So...
THE PCA MACHINE… CANS
Participants of military-Patriotic games from small to big deal for a clothing and "armed" with copies of famous machine guns PPSH, one form of which caused the enemy to panic:...