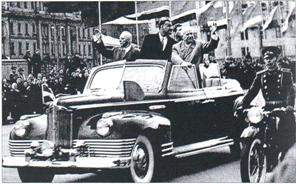 Executive cars, leading descended from the Royal gilded carriage ride with the "power plant" of about a dozen horses in harness, appeared at the beginning of the XX century. And they have become quite reliable and safe -the monarchs, the highest state officials, as well as "owners of factories, Newspapers, steamships" the race began to order entered suddenly in Vogue cars-limousines.
In Russia, the limousines were not issued and for the Imperial court purchased cars of foreign production, although in fairness it should be noted that in 1913 the Royal garage still bought two domestic "Russo-Bapta".
After the Civil war, the leaders of the Bolshevik party and the government for a long time used the limousine from the Imperial garage, and then as they wear, to party-state elites were purchased similar cars abroad. Urgent need Executive car of domestic production emerged in the Soviet Union in the early 1930-ies, when the expenses of Soviet-American trading company "Am-the auction" on the purchase not cheap limousine Buick and Packard reached exorbitant values.