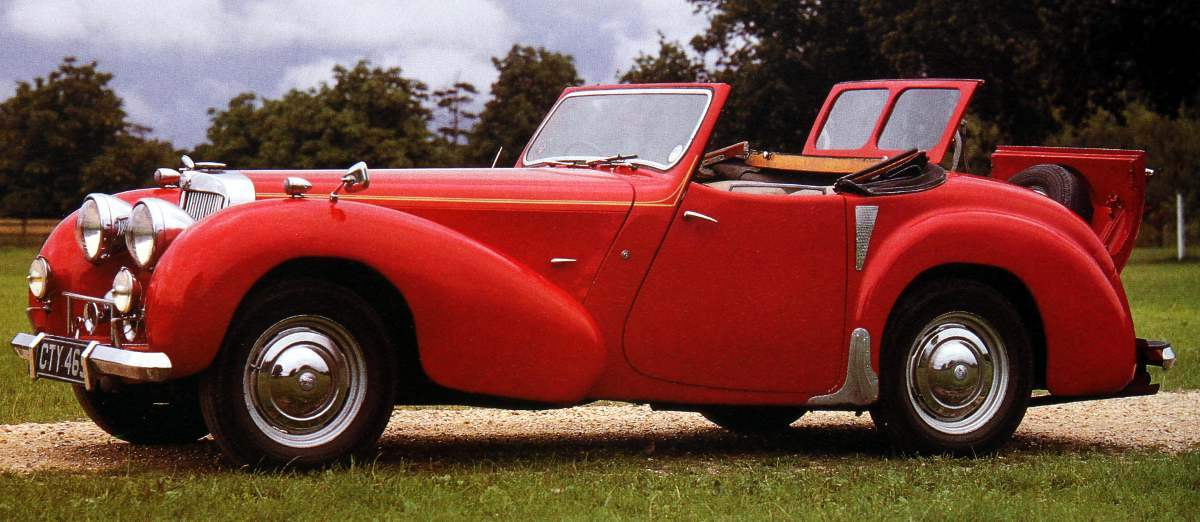 English motorcycle firm Triumph was founded in 1901 in Coventry, a German immigrant, Z. Bettmann. The production car was deployed it only in 1923, when Triumph acquired the bankrupt car firm Dawson. The first car of the United firm was a Triumph 10/12НР with the engine a working volume of 1.4 L. the first car was followed by the Super Seven (1928), Scorpion 12/16НР (1932), Super Nine (1932)… Especially popular with buyers of steel sports car company Triumph, created under the leadership of chief designer D. Healy, reminiscent of an Italian Alfa Romeo.
Financial difficulties in the prewar period forced the company in 1944 to go to Association with the company Standard to form a group of Standard-Triumph.
The first post-war car group has become the Triumph 1800, manufactured in the versions of "sedan" and "coupe". The car was produced from 1946 to 1948. By construction, the Triumph 1800 was a transitional model, which incorporates the design refinements of the 1930-ies, design, and technological developments of the postwar period. So, the car has maintained huge front fenders, but almost got rid of the rear, kept the famous "Teschin place" in the Luggage compartment, but lost the traditional pre-war boards and the "spare tire" in the recesses of the front fenders. The maximum speed of the machine, equipped with a motor with a displacement of 1776 cm3 were about 80 mph (128 km/h).
Recommend to read
TRIUMPH DOLOMITE-8
English automobile firm Triumph, founded in 1901 in Coventry Austrian immigrant Siegfried Betmenom until 1923 was manufacturing motorcycles. The first car company became TRIUMPH 10/12НР...
GAZ-14 "CHAIKA"
Gorky automobile plant in the postwar period in addition to building trucks. middle class car "Victory", and then "Volga" was produced and Executive cars, the first of which was the...