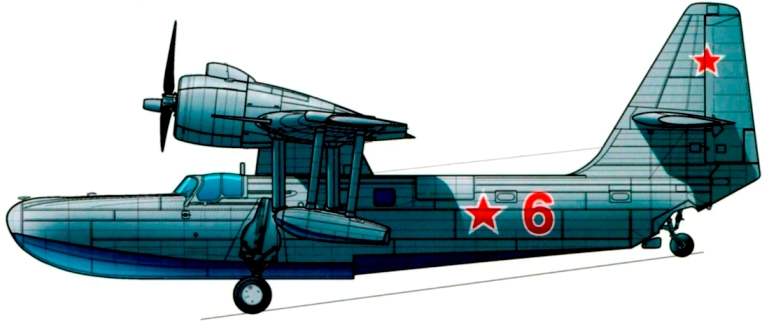 Amphibian Be-8 has completed the collection of seaplanes, which began in 1941 scout KOR-2 (be-4). Despite the relatively high assessment from specialists, Be-8 for a number of reasons, mass production has not been, and was used mostly as a flying laboratory. Work on the be-8 began in 1946 on the basis of the technical project of the ship's scout LL-145 with the start of ejection. As a prototype, a new amphibious aircraft was a flying boat of all-metal construction, made on a parasol. Wing, who were technologically on the center section and two detachable parts, were recruited from the profiles of WT-230. On its consoles housed fixed landing gear floats lateral stability, and on the back edge landing flaps, uklonivshiesya on take-off 15° landing 40°. In the wings were the fuel tanks.
Boat — duradanda with keeled bottom in the bow and mehregany parts of the displacement 21,055 m2 was divided into five watertight compartments, providing almost four times the reserve buoyancy at normal flight weight. Between the 11th and 12th ribs were niches for cleaning the main supports of the wheeled chassis, and between the 29th and 31st frames for the tail wheel. Release and retraction is carried out electrically in an emergency situation, manually. The main wheels had the size 650×225 mm.
Sludge boat did not exceed 0.56 m at normal flight weight and 0.58 m — when reloading.
The regulator is unregulated. The management plane is dual, cable.
The power plant consisted of a radial air-cooled engine with single stage supercharger DB-21 takeoff power to 700 HP at 2300 Rev/min. (specific fuel consumption this mode 0,285 kg/HP h) and automatic screw AV-29E-81A with a diameter of 3 m.