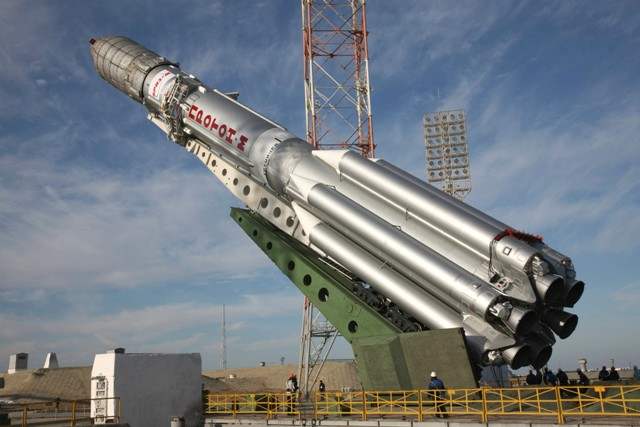 This slogan was the basis of the life and work of one of the founders of Russian space engineer Friedrich Arturovich Tsander, who developed the 20-ies of the last century one of the first projects of the spacecraft for flight to Mars. However, he was not only a dreamer — in the early 30-ies took an active part in the development of the first domestic liquid-propellant rocket engines and rockets in the famous gird.
Secrets of the red planet has long haunted scientists and space researchers. One of these mysteries were the satellites of Mars — Phobos and Deimos moving in unusual orbits. The nature of their movement, one of fantastic hypotheses, suggested their artificial origin. To help solve the mystery of the origin of one of the moons of Mars, Phobos, was the expedition of two automatic stations — "Phobos-1" and "Fobos-2", created in NPO. Lavochkin carried out in the USSR in 1988-1989 To run the last station (August 12, 1988) was used the most powerful domestic booster "proton", created in OKB-52 under the leadership of academician V. N. Chelomey, and the upper stage rocket DM No. 1L, developed at the TsKBEM (now RSC Energia).
OKB-52, now — KB "salute", part of the State space scientific production center (Khrunichev) them. M. V. Khrunichev, has a glorious history. It is based on the aviation design team, headed by the famous aircraft designer V. M. Myasischev. Under his leadership, were created and were built as standard bombers M-4(103M) and experienced the M-50. Office based in the territory of one of the largest aircraft factories of our country, built in 1926, Here produced the first all-metal passenger aircraft. In the late 40-ies of the KB and the factory moved to the development and production of missile technology. This work was headed by General designer V. N. Chelomey. Under his leadership, was created cruise missiles for the air force and Navy. In the future, the CB was transferred to the armament of the strategic missile forces Intercontinental ballistic missile UR-100, which for many years was the basis of domestic nuclear capabilities. Its latest modifications are on duty and at the present time.