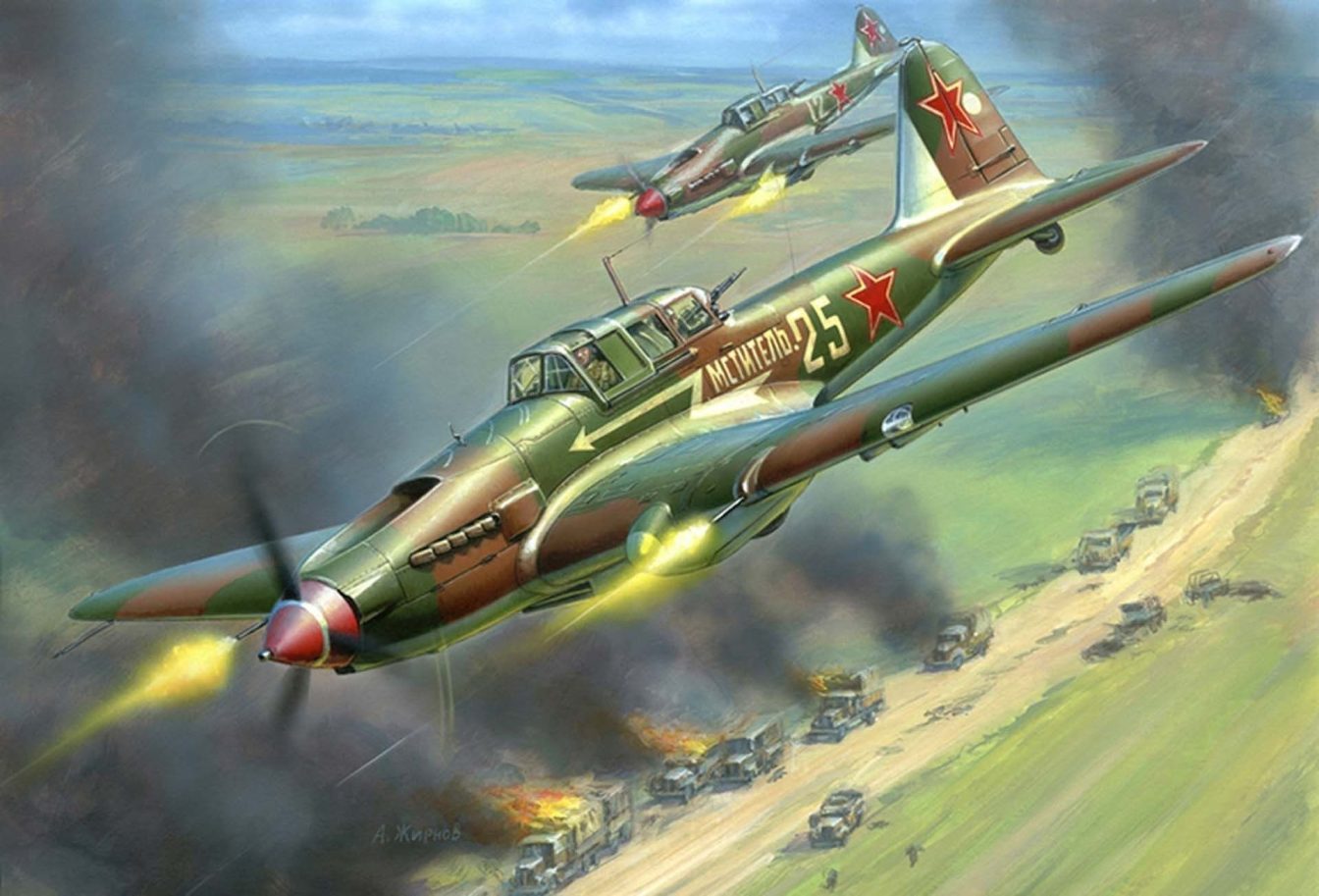 In January 1938, the aircraft designer S. V. Ilyushin, who worked at that time chief of the experimental aircraft of the people's Commissariat of defence, appealed to the government with a proposal to create a designed "flying tank" — double armored attack.
In September 1939 the attack, which received factory index TSKB-55 was built. It was a double cantilever monoplane with polioviruses chassis fitted with engine AM-35 takeoff power 1350 HP, the Plane had a streamlined browserplus of the developed in VIAM high strength armor steel AB-1 enclosing the engine, crew, and fuel and oil system. The light aircraft had a windshield of transparent armor K-4.
The first flight of a new attack aircraft took place on 2 October 1939 (test-pilot V. K. Kokkinaki). After the completion of state tests TSKB-55 in April 1940, the S. V. Ilyushin has proposed to transform the attack in single with two 23-mm cannons and two ShKAS machine guns, stopped the serial production of the aircraft until March 1941. The beginning of the great Patriotic war Voronezh plant № 18 only released 249 new stormtroopers.
Baptism of fire attack aircraft adopted on 1 July 1941 near Bobruisk and the Berezina. The planes attacked a concentration of enemy tanks, as well as the various purposes on the battlefield, using fire guns ShVAK or VYA and machine guns, volleys of rockets and air strikes. However, the lack of protection of rear hemisphere was making the plane completely defenseless from enemy fighters.
In October 1942, was released a double modification of Il-2, and from January 1943, upgraded attack aircraft with uprated engines AM-35F with a capacity of 1750 HP in mass quantities began to enter the front.
In March — April 1943, the bomber was equipped with 37 mm cannons NS-37, in the battle of Kursk in the Il-2 such guns have struck even the "tigers". And compact using a 1.5-kg bunker Buster bombs, these machines destroyed almost all the tanks in the strip with width of 15 and a length of 70 m.
Il-2: engine AM-38F power 1750 HP, the length of the plane 11 650 mm, wingspan 14 600 mm, height 2950 mm, the empty weight of 4530 kg, a takeoff weight of up to 6360 kg, bomb load up to 600 kg, the maximum speed of 400 km/h, range 800 km, ceiling 5440 m crew of two people.
Recommend to read
PING-PONG ON THE LAWN
Homemade table tennis tables in the courtyard are usually fine stationary: rough, of boards or even concrete slabs—such structures are called table can only be conditional. Yes, and they...
THE VICTORIOUS OPPOSITION
The real work of creating a new heavy tank in the program Panzerkampfwagen VI began in late January 1937, when the company Henschel was commissioned and started to design the combat...