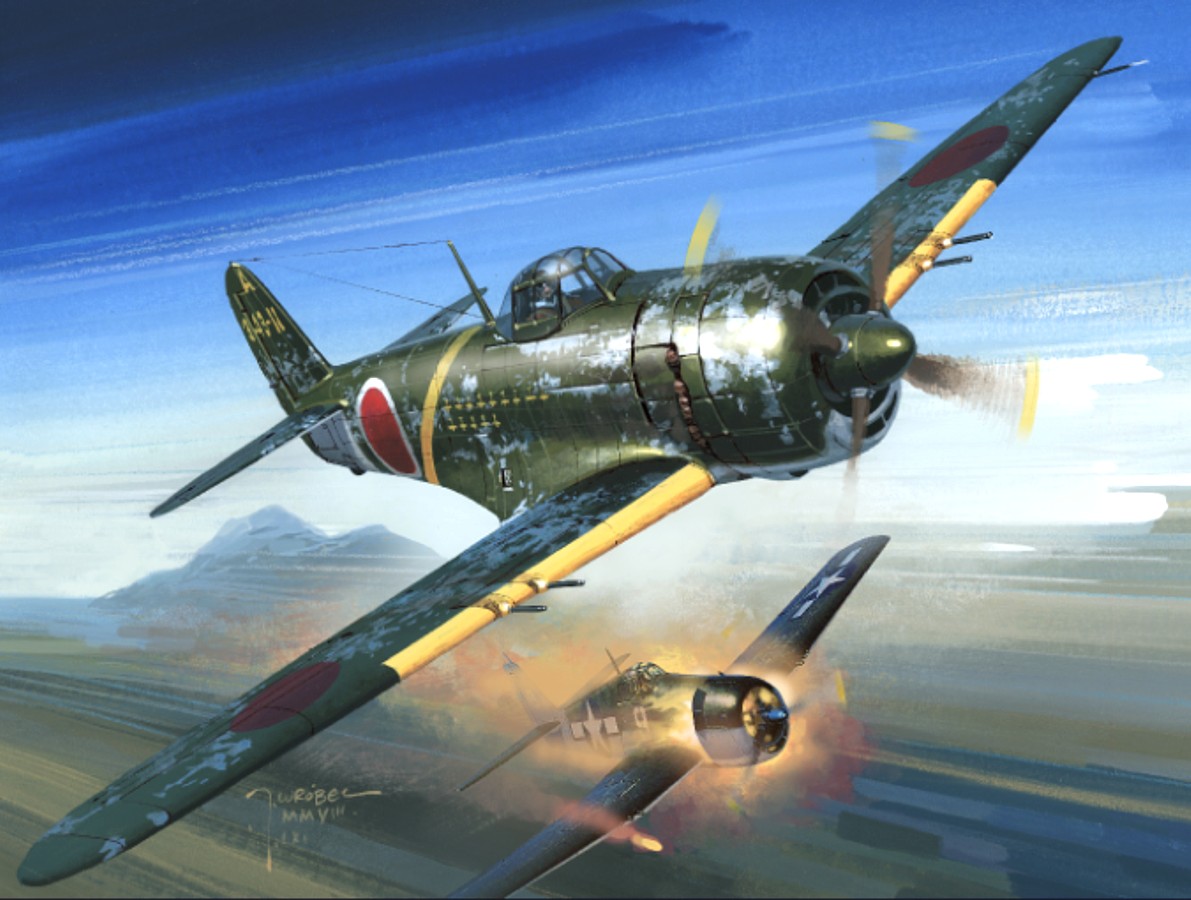 Japanese aircraft and engine firm Kawanishi Kokuki KK was founded in 1928 and produced mainly military aircraft, which later was widely used in world war II — four-engine reconnaissance flying boats Н6К and Н8К, as well as a fighter N1K1 float and ground N1K1-JSIDEN (purple lightning).
The first flight of the prototype N1X1-J is equipped with 18-cylindrowym radial engine, made on 27 December 1942. Serial production of the fighter began in August 1943. Serial N1K1-J was equipped with a radial engine "Homare" 21 and armed with two 7.7 mm machine guns in forward fuselage and four 20 mm cannons in the wings. The aircraft was manufactured in several aviation factories in Japan; it was built in 1415 machines several modifications. Among them, the N1K1-Ja with the wing guns and without guns, N1K1-Jb with two pendants with 250-kg bombs, N1К1-J with four pendants For 250-kg bombs and an improved N1K2-J with improved chassis, modified vertical tail surfaces and modified engine cowling.
SIDEN has proven himself in combat, he successfully resisted the most American of aircraft, including fighters "hellket". Was discontinued after the surrender of Japan.
KAWANISHI N1K1-J SIDEN: wing span 12 000 mm; length 8890 mm, height 4060 mm; wing area of 23.50 m2; empty weight 2897 kg; maximum takeoff weight of 4321 kg; engine 18-cylinder radial Nakajima company NK9H power 1990 HP; maximum speed 584 km/h, ceiling of 12 500 m; range 1432 km; crew: 1 person; armament — 4 20mm guns, 2 7.7 mm machine gun.
Recommend to read
MODELIST-KONSTRUKTOR 2001-11
IN THE ROOM: Public KB: P. Merkulov. In flight the autogyro (2). Small-scale mechanization: A. Zhuk. Hand pump (10); V. Shvedov. Ventilation in the garage (10). FIRM "I":...
BLOW, ANOTHER BLOW — SAW IS READY!
The principle of operation of this device for cutting, or rather, cutting out of teeth on the blades for the hacksaw is simple. Its main part is a wheel with a cage, fortified it with...