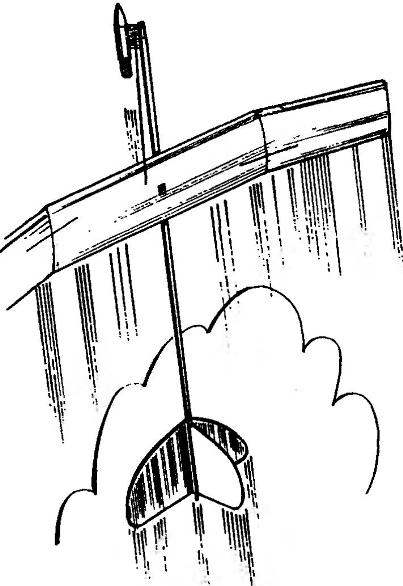 In the circles of rocketmodeler name V. Menshikov known. Honored master of sports, two-time world champion, repeated champion of the USSR and Russia — this is not a complete list of achievements of athletes from the Siberian town of Urai. A memorial was V. Menshikov and the last sports year. He became the champion of Russia and prize-winner of the world championship in the class of models 84В. I believe readers will be interested to meet his sporting "weapon" — rocket glider.
Rocket V. Menshikova performed by well-known scheme with the folding of the rotary wing. Balsa wing consists of a center section with a length of 322 and a width of 65 mm and two consoles. The details of the wing are cut from plates of 3.5 mm thick, profiled and covered with two layers of nitrocellulose lacquer. Swivel consoles with the center section — nylon strips, 10 mm width, glued on the lower wing surface. On the top, at a distance of 25 mm from the axis of the swivel, reinforced hooks for rubber bands return consoles, b the place of touch of rubber bands reinforced with pieces of celluloid. On the left half of the center section, closer to the middle, glued the hook for the elastic twist of the wing in the planning.
From the bottom to the middle of the center section glued to the balsa plate size 65×7 mm with variable thickness (maximum — 3 mm — front). The album serves as a pylon of the wing and allows you to change the installation angle to adjust the space Shuttle. Here, in the middle of the center section, drilled a hole with a diameter 2 mm under the fastening screw of the wing, reinforced the top with celluloid. The left pylon is glued wire end stop of rotation of the wing in the planning.