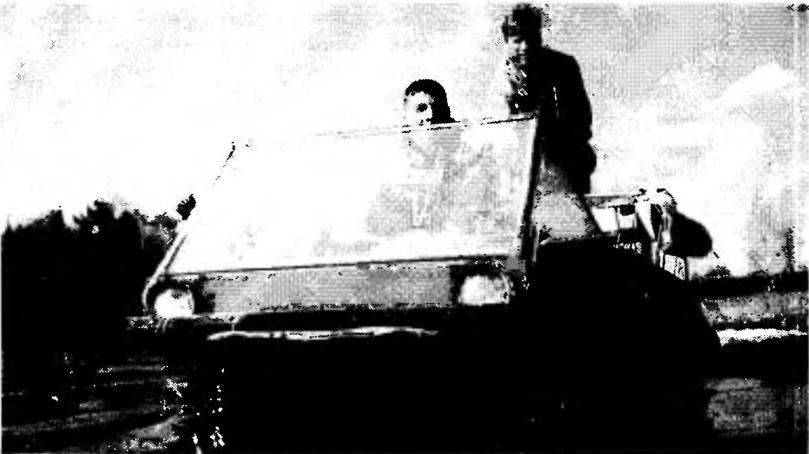 Off-road amphibious all-terrain vehicle tires low pressure, built studente and employees of technology and economic faculty of the Vyatka state pedagogical University, in operation for more than ten years. During this time, confirmed the unique capabilities of the machine. The Rover moves steadily along any road, through thick dirty, snowy or swampy terrain of the area covered by tussocks and shrubs, overcomes water obstacles. Its own mass of about 250 kg, can carry up to 500 kg of cargo on water and land.
The vehicle is made in wheel circuit 4×4. All its wheels are made manageable, which reduced the turning radius to 6 meters (with a smaller angle of rotation of the wheels).
Ahead of on the housing, a transparent plate (organic glass in a welded frame of steel area) that protects the driver from wind and rain and preventing the engulfing water of the cab while coming down the steep Bank into the river. With the same purpose, the forward part of the strongly extended forward and provided with a sealed cavity under the wings.
The open cabin (the driver's seat and steering wheel in it a little offset to the left from the longitudinal axis of symmetry of the body) should be a cargo Bay, which, however, freely is and passenger. To protect driver and passenger from the elements can be mounted folding tent. The aft power unit, and above it — a roomy trunk, welded steel rod with a diameter of 8 mm (acceptable replacement in rented car).