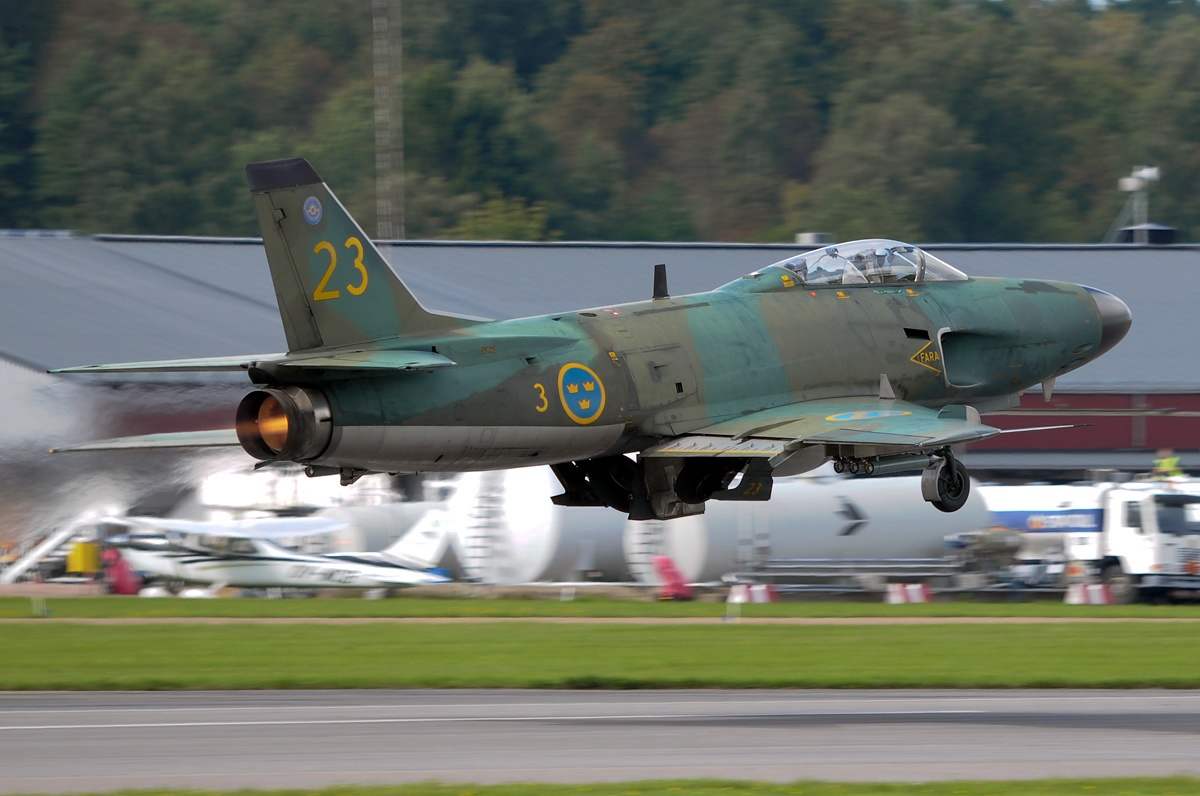 Sweden was and remains one of the few countries in the world, able to create a world-class aircraft. Combat aircraft of that Scandinavian countries have always been some kind of "twist", they should not be confused with similar machines from other countries. In a world quite similar to each other planes, but similar to the Swedish fighter, perhaps, could not be found. The explanation, in my opinion, is simple: since its inception in the late 1930-ies the Swedish aviation industry is not copied already built foreign aircraft, designed and built their own samples. And the fact that in a short time the Scandinavian engineers to develop could not (for example, modern jet engines and electronic equipment) purchased abroad, including a license for their production. The result of this competent technical policy was the fact that in the postwar "jet race" Sweden is practically not inferior to the world's leading aviation powers, and in some cases even ahead of them.
In this article we will not go down in aviation history, but will tell only about creating a single plane, for more than two decades formed the basis of the tactical aviation of Sweden. This SAAB 32 "Lansen" ("spear" — Swede.) attack, fighter, reconnaissance, electronic warfare aircraft, towing targets, aerial targets simulator, a platform for fine-tuning of future systems.
The development of jet-powered attack aircraft to replace the piston bombers of the SAAB IN-18, SAAB J-21 and J 30 (De Havilland "mosquito") began in 1946. Initially the project had the designation "Р1100" were calculated under two turbojet engines of English manufacture. In its cargo Bay could accommodate two bombs caliber 500 kg or up to 12 NAR caliber 150 — 180 mm. At the design stage considered a variety of aerodynamic configurations, with one of the most promising was considered a "flying wing". However, given the not entirely successful international experience of implementation of such a scheme in those years, Swedish designers have abandoned it in favor of a traditional classic. Powerplant "cut" to a single engine placed in the fuselage.
As a result, in 1948, the project Р1150, which became the prototype of the serial car. At the same time the Royal air force elaborated on the tactical and technical requirements for a promising attack aircraft, which, incidentally, was quite hard. Asked to have a new double plane was ready for all-day use in all weather conditions, had a powerful impact weapons (guns, bombs, NAR and guided missiles), integrated electronics and weapon control system. And most importantly — the new bomber must be able within an hour from the center of the country to reach any point on the coast of Sweden, stretching over 1245 nautical miles (about 2000 km).