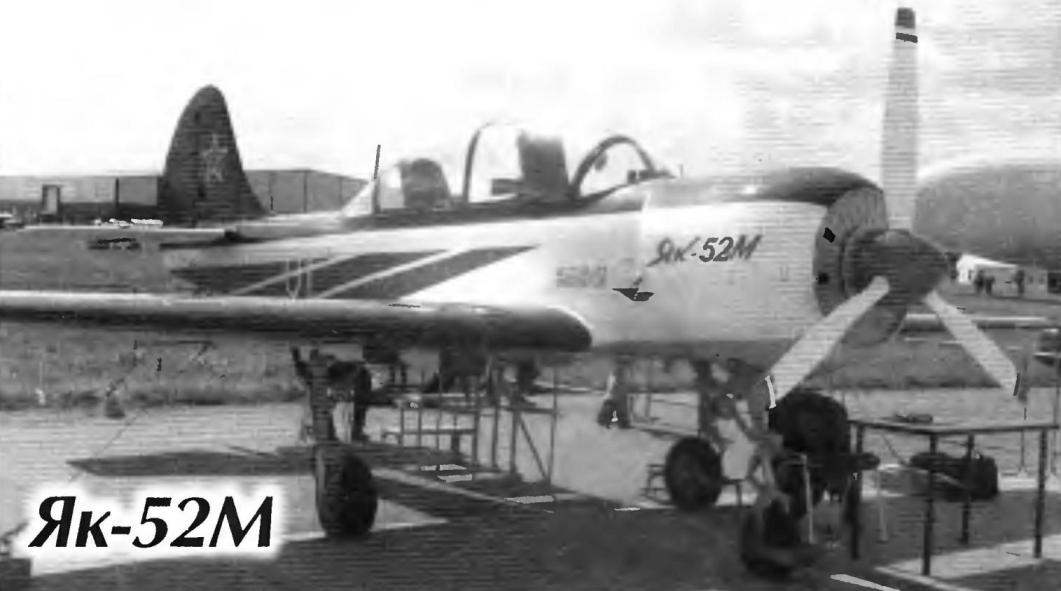 In 2002, the air force developed tactical and technical requirements for the modernization of the Yak-52 training-Yak-52M for professional screening and initial flying training of future military pilots and pilots-sportsmen. Modernized Yak-52M distinguished with its new wing, which provides a guaranteed and safe stall the nose; the fuel tanks-caissons of the increased capacity of modern radio communication and navigation equipment, allowing to operate day and night in different weather conditions.
In addition, the Yak-52M is established: complex of means of emergency rescue crew KECOBO-52M in all range of altitudes and flight speeds, the power plant with the engine M-14X and a variable-pitch propeller MTU-9-b-C/CL 250-27-01, new canopy pilots. Almost doubled the resource of the machine.
The first flight of the Yak-52M was performed by the test pilot OKB of O. S. Kononenko 16 March 2004
According to the results of state tests, which ended in 2005, commander of the air force approved a comprehensive plan of preparation of the Krasnodar aviation flight school for training on the Yak-52M. Plan within two years of delivery includes 20 cars, the construction of which is requested 308 aircraft repair factory of the defense Ministry. In 2006, the Yak-52M aircraft was determined by the authorities of Ukraine as the basic aircraft to create a "Ukrainian" version of an educational-training: Yak-52УМ.
Engine M-14X with a capacity of more than 360 HP Wingspan of 9.5 m. wing Area — 15 m2. Fuel capacity — 200 HP Maximum range of 900 km.
Recommend to read
HUMMER H2
The first production models of this vehicle was delivered to army units in September 1985. The machine incorporates the most advanced technical and technological solutions of its time...
Yak-9: FROM STALINGRAD TO BERLIN
For more than six months of heavy fighting on land, at sea and in the air. The Soviet warriors and the creators of the weapons - designers of tanks, guns, ships and planes - accumulated...