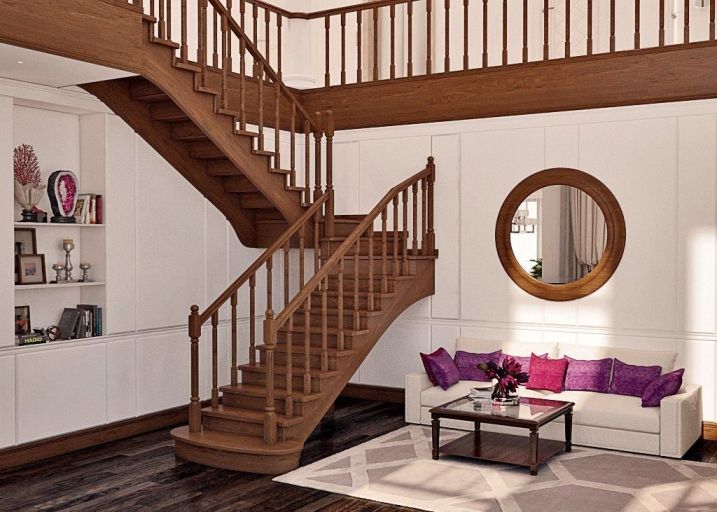 As a rule, to a country house or cottage the best option are the interfloor wooden ladder – these models give a distinguished look to interiors and have excellent performance characteristics. Moreover, this magnificent on the parameters of the material. Products such a plan – a classic that never goes out of fashion.
The main features of quality products
Designs of this type in the room are both a functional element and a unique decorative attribute. Quality products must be:
Safe
Durable
Reliable
Durable
Sustainable
Practical
Eco-friendly
Comfortable
Aesthetically appealing
Well done, with observance of all construction norms and rules of wooden ladder have the whole set of parameters listed above. In addition, such a practical element of the interior is also a great decoration. Harmonious and noble look of a room attached to the design of precious varieties of wood, especially expressive look of carved fencing and individual elements.
Material for the production of ladders
Natural material is an environmentally friendly product, it has antiseptic properties, is hygienic and safe for health. Superior insulating properties lend additional comfort in operation. In addition, designs are perfectly combined with almost any style of interior.
Buy wood stairs on the site one of the producers of such products. Since the product of the entire array – very expensive item, in demand services for the veneer wood, concrete and steel bases. These materials are perfectly blended with each other.
Used types or combination of types determines the cost. Budget option can be considered as inter-floor design in the country house of softwood, such as pine, fir. Soft structure is easily processed, but less durable and resistant as the durum. More valuable species – oak, beech, ash, maple are also actively used in the manufacturing process. Larch is one of the most popular options. Elite models, individually designed designer draft are usually built of rare and expensive varieties such as wenge, walnut. The most optimal cost and quality option – combo, usually to reduce the cost of pine is used for the production of individual elements and details, such as railings and risers. And the steps appropriate to carry out from more durable materials.
So, the main parameters to consider when choosing:
Dimensions
Configuration
Used raw materials
Design
Processing method
Speaking of the last factor, remember that wood lends itself perfectly to this treatment as toning and coating with paint, lacquer, and, as with a glossy and Matt effect. Wooden ladder – a great choice for a country home or cottage.
S. ROMANOV
Recommend to read
Technology of construction of country houses
How to build a reliable and durable house? What technologies are currently in use? To these and other questions will find answers in this article. Just note that the choice of technology...
FLOWER GARDEN ON WHEELS
In addition to the traditional flower beds in the suburban areas more and more popular are beginning to use mobile flower beds, allowing for the need to move or transfer them to another...