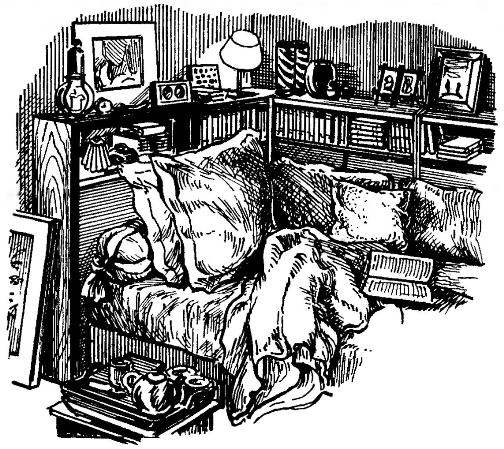 When the master bedroom is spacious, it is possible to set the bed at the most convenient diagram — head end to the wall. This is especially important for two places: approaches to the bed from both sides, and each side can be put on the bedside table with a lamp, rationally arrange bedside drawer for bedding.
If you have a free corner with a small pier in the minds of the bed, then use the Hungarian magazine "Earmaster" design, and you find that the room has become more spacious.
And all this with a built-in bed corner wall Cabinet that combines the functions of multiple pieces of furniture. The top panel is, in essence, a long open shelf on which house the lamp or lamps, alarm clock, transistor. photos and other decorative items that make your home cozier.
Located below the panel is another roomy shelf, which will also assume a lot need (to be) the subjects of the books read at bedtime.
The capacity of the Cabinet can be used in different ways .Corner Cabinet-wall is more convenient that it could serve as an addition to the existing beds, the design of which will need to make appropriate changes.