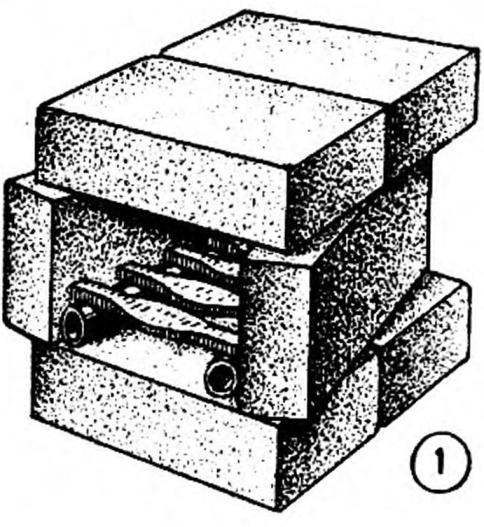 The tinkerers are often faced with the need to forge some tools or household items. A temporary forge is easy to make from scrap vehicles. Enough six refractory bricks, blowtorch and improvised grates, made of steel strips with a thickness of 3-4 mm. In a fire-proof place folded, as shown in figure 1, the horn of bricks. On the bottom put two trimming water pipes, and on these bars, so that between it and the bottom bricks there is a gap. The grate is transverse slats of the grille is a little bent, so they seized the flame of a blowtorch and sent up.
On the bars poured coal and put in front of a mountain of heated blowtorch (Fig. 2). The lamp flame ignite the coal and maintain its intense burning in the future. Just need to find the most effective line of flame, as obtaining a high temperature depends largely on the blast. For reasons of safety and for protection of the tank blowtorch from overheating, it is expedient to isolate her from the heat horn the screen of non-combustible material.
Billet to forging, bury in live coals, where they are kept until until heated to a light orange color, which corresponds to a temperature of approximately 1000 — 1100°. Long withstand the workpiece is not necessary, as they have dramatically deteriorate the mechanical properties of the metal becomes brittle. Forge usually a hammer mass of 0.5 — 1 kg. And be sure to use protective glasses, so hot slag does not fall into the eyes. The anvil can be any solid metal disc: sledgehammer, chip rail and tan on.
Opportunities and techniques of hand forging is very diverse. To obtain, for example, semicircular a chisel, a hot plate put on a special stream in the anvil top is applied with a steel bar and hit it to bend the workpiece (Fig. 3).
If you want to dig Crescent-shaped strip, then strike follows one edge of the strip, as shown in figure 4. And that itself will be curved in the opposite direction.