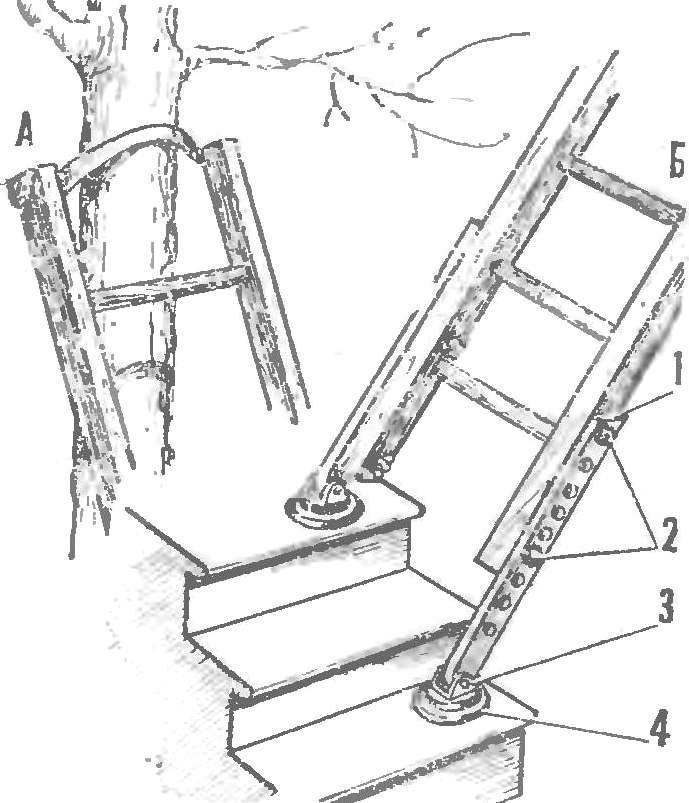 Reversible ladder — a device simple and reliable. But only in ideal conditions, and when the floor is smooth and wall is straight. And if you have to work, say, in the stairwell on the stairs, in the garden, collecting the harvest, or on a high pole? In such cases the best way out is modernization of the reference elements of the design ladder.
In fact, if you supply her "feet", retractable and fixed in the right position but still to put on these "legs" to attach them with a rubber sucker or something like that, the steep and slippery stairs will no longer pose a danger. And to the ladder firmly relied more on the pole or trunk of a tree necessary to its upper end to attach a canvas strap.
These additional supports allow you to work at height safely and confidently.
A. TIMCHENKO
Recommend to read
HAMMOCK-IMPROMPTU
For most days of the summer holidays — a time of carefree family holiday, which many spend in the country, the plot or in the garden. At this time, each camper tries to make up for...
TO HELP THE GARDENER — NAIL
We usually dig? Pushing leg, bury the shovel, then bend down, take the lower part of the handle, raise the shovel from the ground and turned a seam, having unbent, then re-bury and bend...