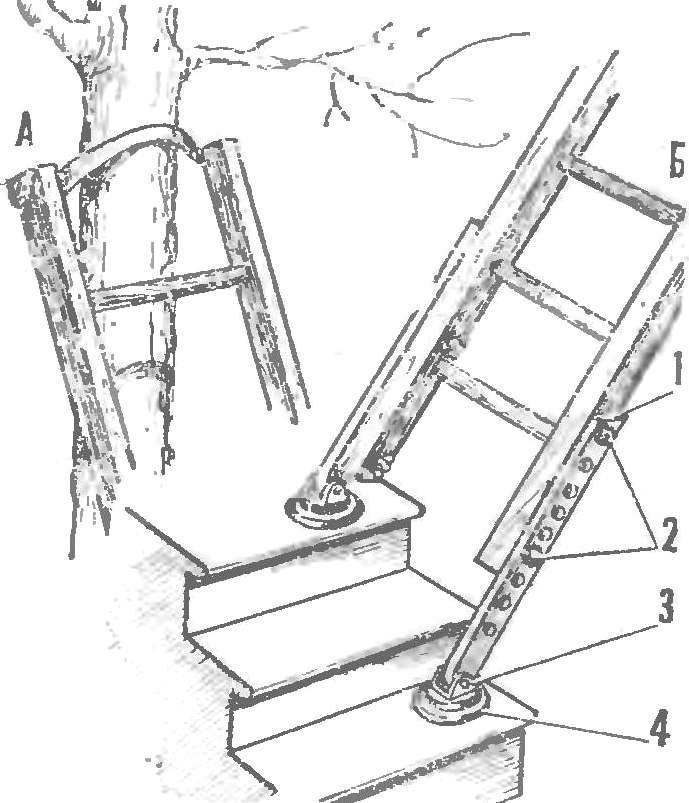 Reversible ladder — a device simple and reliable. But only in ideal conditions, and when the floor is smooth and wall is straight. And if you have to work, say, in the stairwell on the stairs, in the garden, collecting the harvest, or on a high pole? In such cases the best way out is modernization of the reference elements of the design ladder.
In fact, if you supply her "feet", retractable and fixed in the right position but still to put on these "legs" to attach them with a rubber sucker or something like that, the steep and slippery stairs will no longer pose a danger. And to the ladder firmly relied more on the pole or trunk of a tree necessary to its upper end to attach a canvas strap.
These additional supports allow you to work at height safely and confidently.
A. TIMCHENKO
Recommend to read
IS HORIZONTALLY
To withstand the strictly perpendicular direction when drilling holes in the wall or to any vertical surface— just attach to a drill with tape or duct tape carpenter's level. His shifty...
A LITTLE INTELLIGENCE…
...and then you don't have to throw away empty plastic bottles of detergents. The tip of the bottle into a convenient funnel, the lower part will put on the table is a glass for...