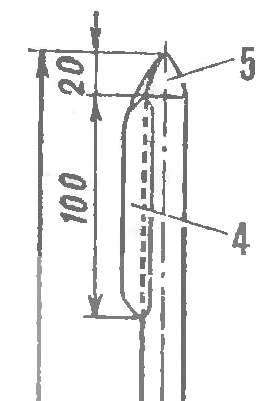 The rocket plane with Delta wing design is widely known, repeated in dozens of models. However, leading athletes of the country are constantly experimenting, looking for even the long-familiar schemes something new to achieve better results.
Further development of raketoplana wing", rogallo" was the model athlete from Kazakhstan M. Abrama. For the first time in the practice of rocket modeling it used a wing with S-shaped profile obtained due to deviation up the tail of the skin.
The Central beam (the fuselage of the model) is a pine rail section 4X4 mm. In its nasal part of the thread and glue is attached a spring hinge, curved-steel wire Ø 1 mm and in the tail (at a distance of 170 mm from the plastic ski) the top is a bamboo rake secheniem 3×2 mm, which creates a limb of the sail.