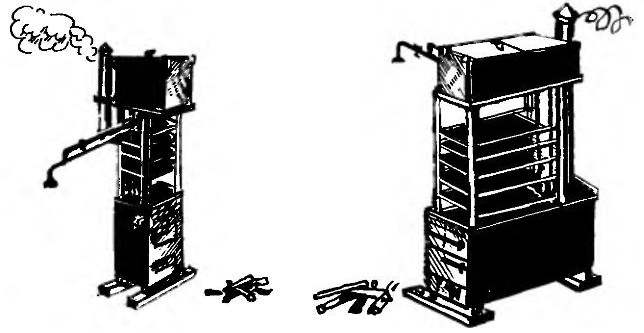 Needless to say, it's nice to warm up in chilly or cold weather at home (whether Dutch or European fireplace), and even admire them, if it is done skillfully. And good Russian stove — the heat capacity, multifunction. But it requires a lot of space, and to fold her, like a fireplace, under force, perhaps, only an experienced professional. But the farm — cottage, garden or rural — can not do without ovens simpler to manage in addition to space heating, and many everyday tasks: cooking for the household and fodder for domestic animals, water heating, drying of berries and fruits, as well as clothing and shoes.
To help out in this case, the oven even without grace, but the universal set, of course, not in the living room, and in any utility room or freestanding construction: the bath, summer kitchen, shed or even under a canopy.
Design of two such welded steel furnaces are given in the published material. The disadvantages of metal (steel) furnace include their low thermal inertia, i.e., poor accumulation of heat. And this is true for the heating of furnaces, when required of them a considerable accumulation of heat in the furnace, and then a gradual long-term heat needed in homes with a permanent residence.