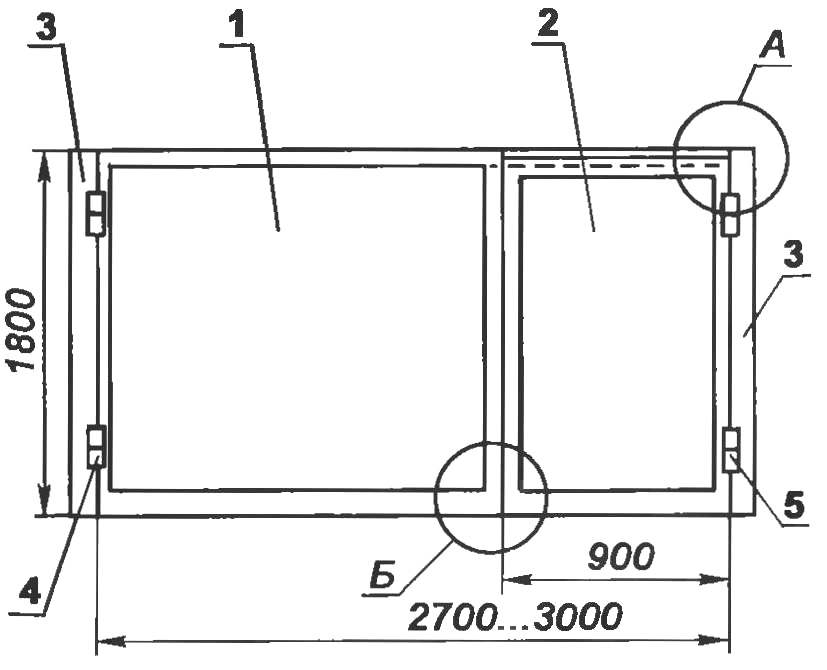 Modern mansions of wall solid concrete or stone deaf fences, and the usual plots, usually surrounded by a light net or stamenkovi fences.
The choice of design of the gate for the arrival here of cars or motorcycles in these cases is always a challenge Because often they are folding. The gate under its own weight SAG and warp, breaking the aesthetics of the structure. Still need a gate for the passage of residents. It is usually made next to the gate or mounted in one of their folds. Such designs are difficult to manufacture and not very reliable in operation.
Offer to repeat the technical solution applied by me in the manufacture of light gate for a garden plot, eliminating the existing shortcomings in the manufacture of fences.
The novelty of the design lies in the fact that the gate 1 and gate 2 have been combined and hinged to opposite poles, 3 gates on the hinges 4 and 5.
The gate 1 has a top bar to full width of opening gates, which in closed position is fixed at the opposite pole, for example, by means of a bolt 6 with nut-lamb (see figure).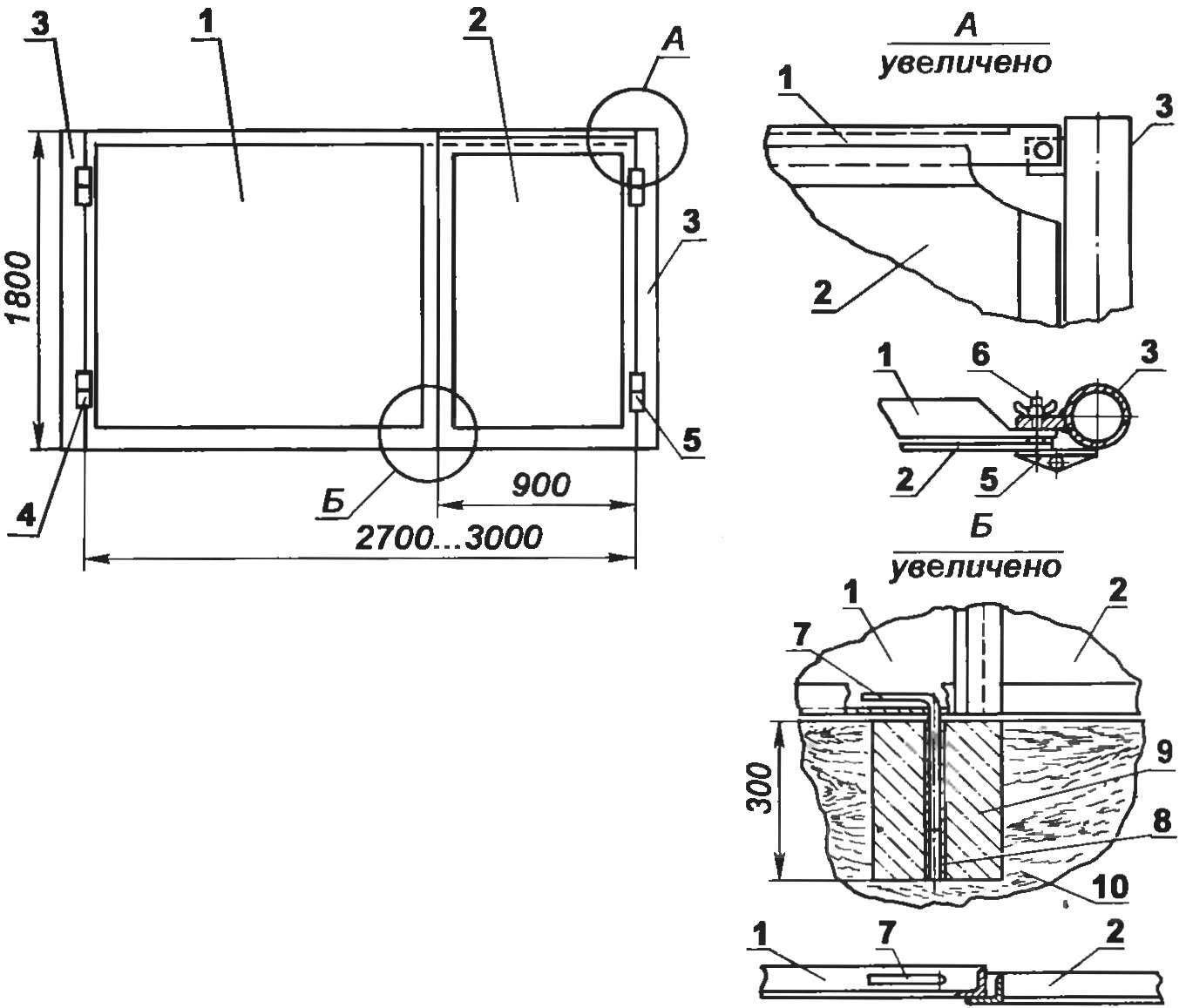 Country gate:
1

— leaf; 2

— gate; 3

— columns; 4

— loop fold; 5

— loop gate; 6

— a bolt of fixing of the closed gate; 7

— pin the bottom locks the gate; 8

— tube for pin; 9

— concrete glass; 10

— soil
Free the bottom corner of the sash 1 is locked in the closed position of the gate pin 7 mounted in the tube 8, sealed cement mortar 9 soil 10 at the gate.
The gate, hinged inside the goal, but independently, on another post, it is advisable to provide the inner or rim locks with a latch and a swivel handle. It is envisaged that the gate is in the closed position overlaps overlap the lintel of the sash, to increase the robustness of the closed position of the gate.
Material for the manufacture of gates and wickets may be a 40×40 area, connected by welding or bolting. The gate and the gate is amplified by the braces and edges, and then upholstered in mesh.
V. ZELENOV, Voronezh
Recommend to read
THE SWITCH UNDER THE HOOD
Often in the organization of outdoor lighting to install the lighting unit is used near a support of a transmission line (the pole) or other suitable wooden structures. For...
THE SOURCE OF LIVING WATER
Spring, source, key all of these names refer to the mysterious place where no one knows where from under the earth breaks a timid trickle of clean and cool water. All peoples have always...