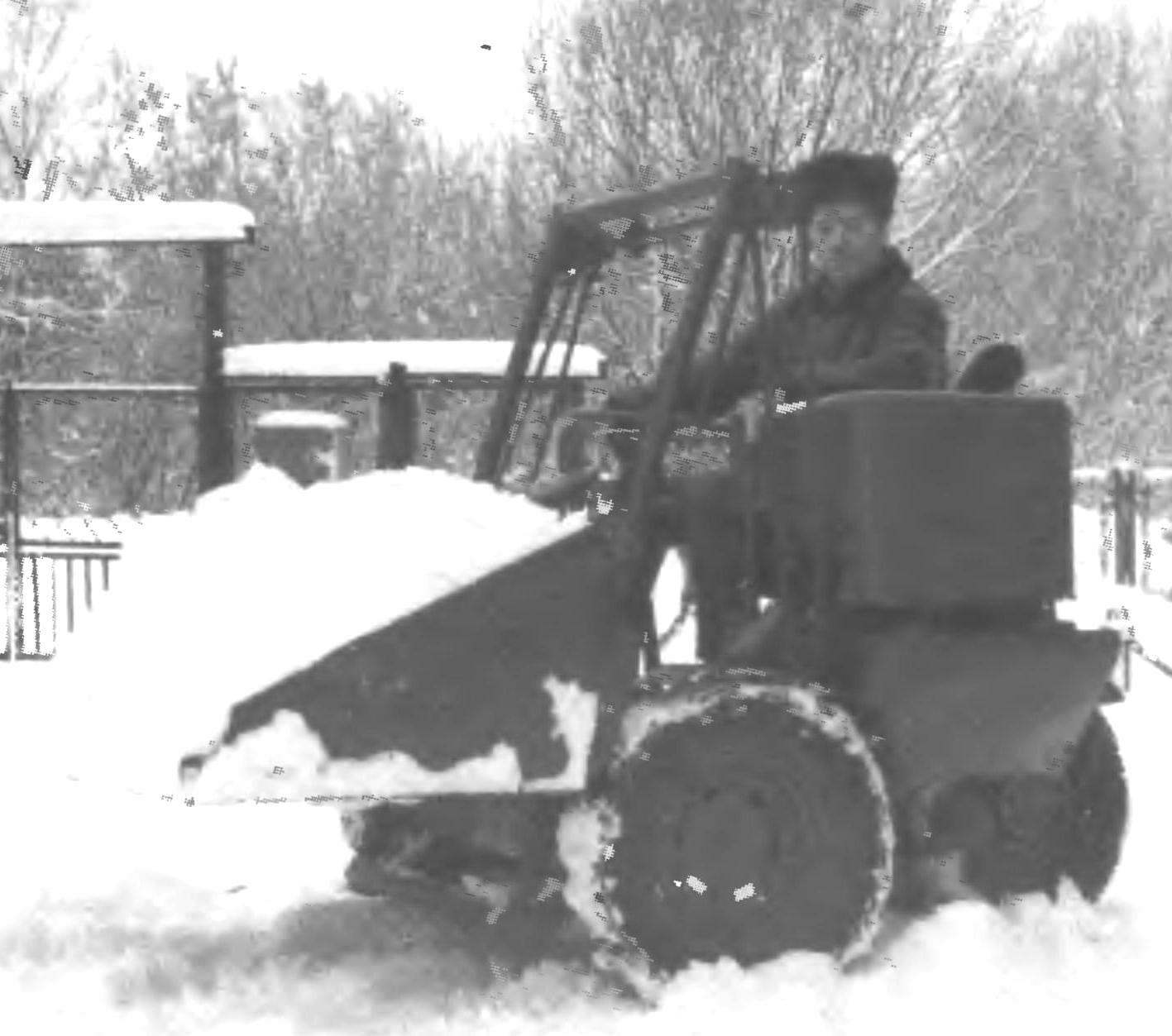 Our longtime reader Ivan sagaev, for a long time living in the North, in Vorkuta, was fond of creating various ATVs, snowmobiles, etc. after Moving to live in a more "southern" region (the city of Topki, Kemerovo region), switched to snow-removal equipment: he has his own house, the snow in the winter in these parts very much and if it in time not to remove, will fall asleep on the tube. For seven years he produced six different designs. Here are three of them.
Photo 1 — rotary machine on the basis of the engine from "Ant", with the hanging Assembly and two-wheeled vehicle having a transfer "back and forth" and independent gearboxes with the clutch on each wheel. Width of the auger is 1.2 m, the ratio of its momentum to the rotor 1:10, clear the snow from left to right at an angle of 40 -45°, the range of emission up to 8 — 12 m. recommended applications: cleaning of paths, sidewalks, playgrounds.
Photo 2 — four-wheel bucket mini loader (engine and differential also from "Ant"). All — wheel- drive, left and right pairs are connected by a chain drive. Twist — lock one of the pairs. Rear shock absorbers are installed to avoid fracture of the frame and sagging of the wheels on uneven. Bucket capacity of 0.25 m3, width — 1.2 m, while unloading is tilted by 45°. Rise — on two guide rails, a drive chain through a small gear on the clutch. The lowering of the ladle under its own weight, the speed is regulated by the clutch. This technique snow can collect in the bucket, raking paths, or directly from the heap of snow When cleaning roofs it is possible to dump snow directly into the bucket.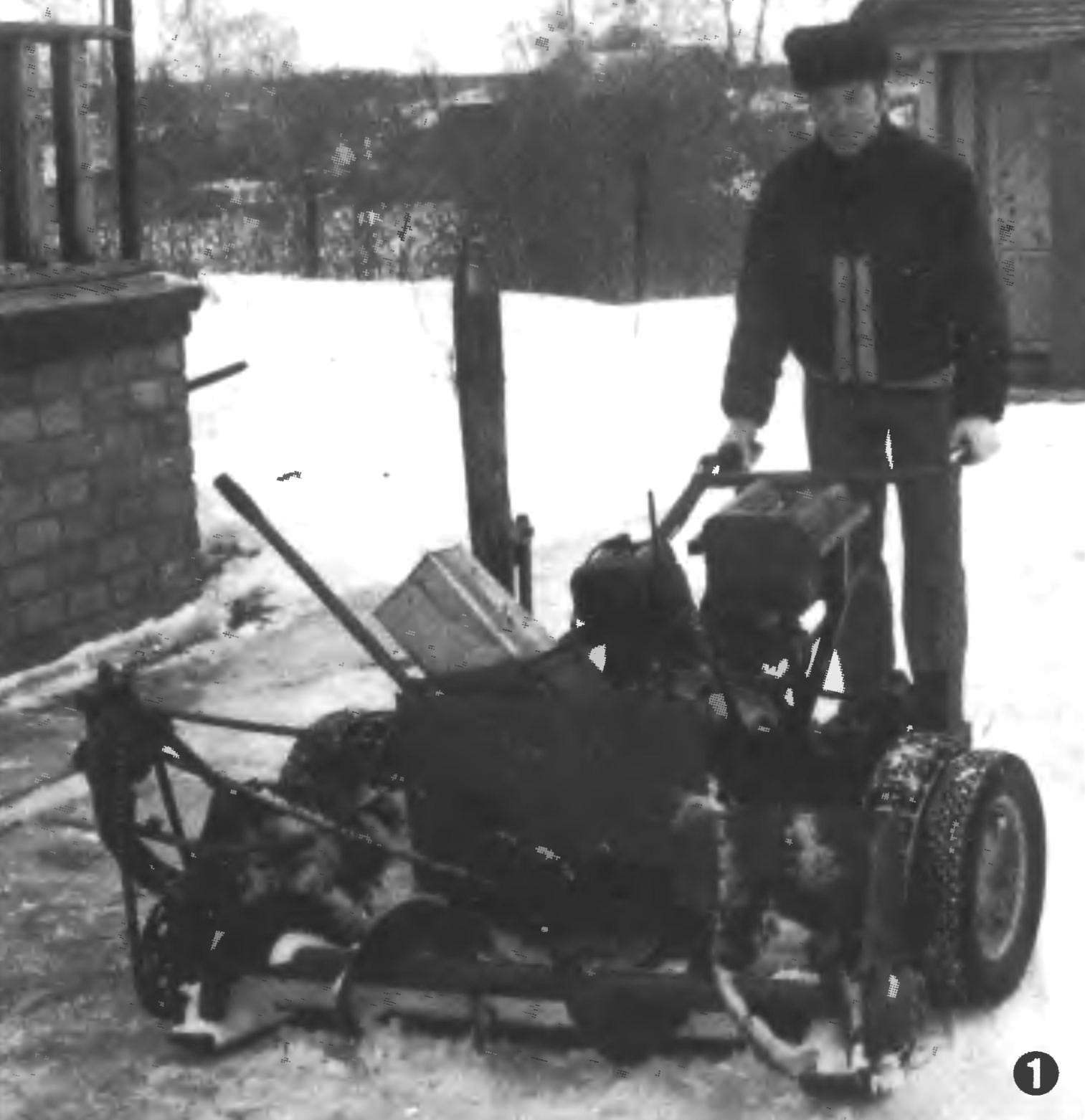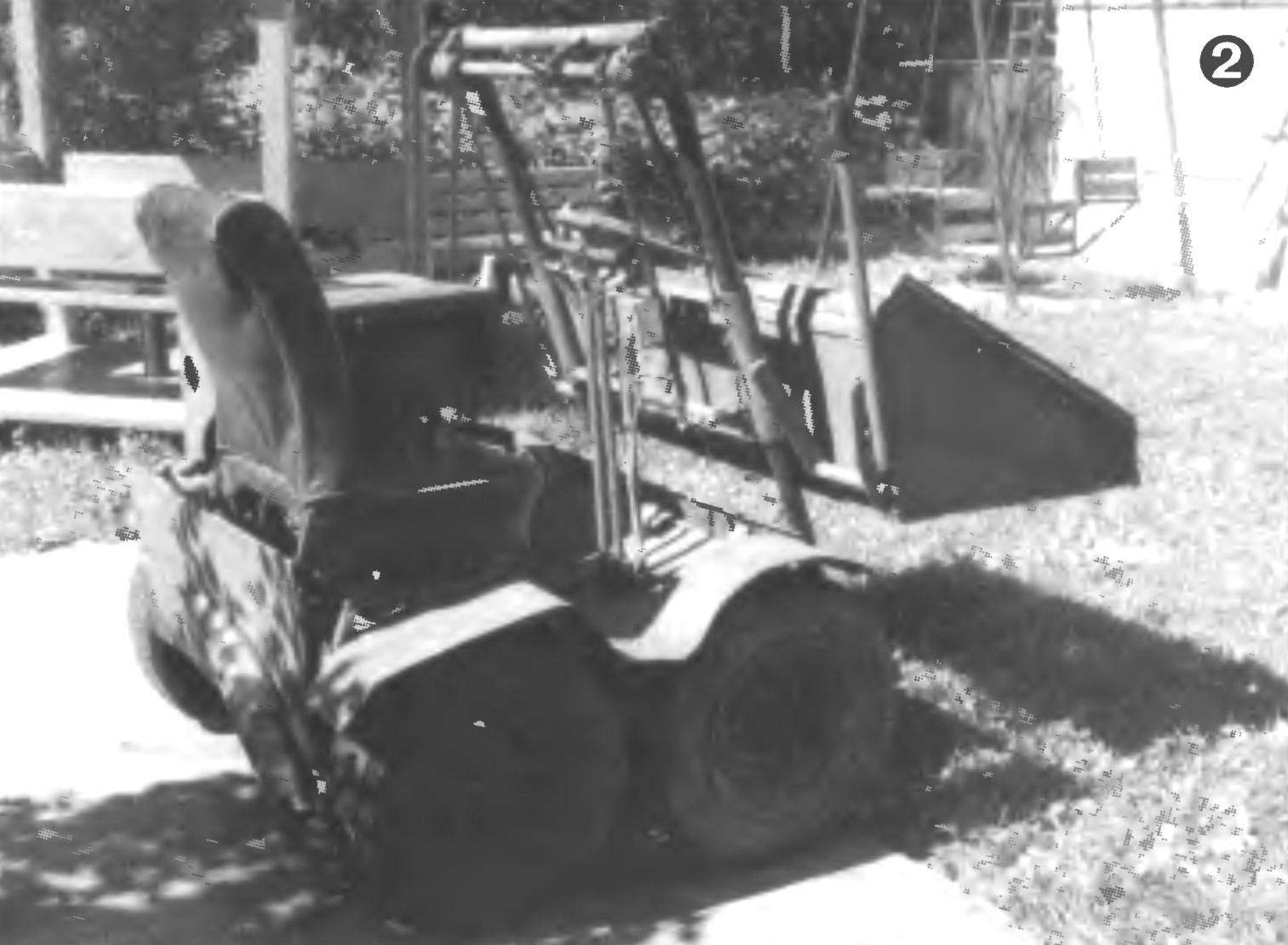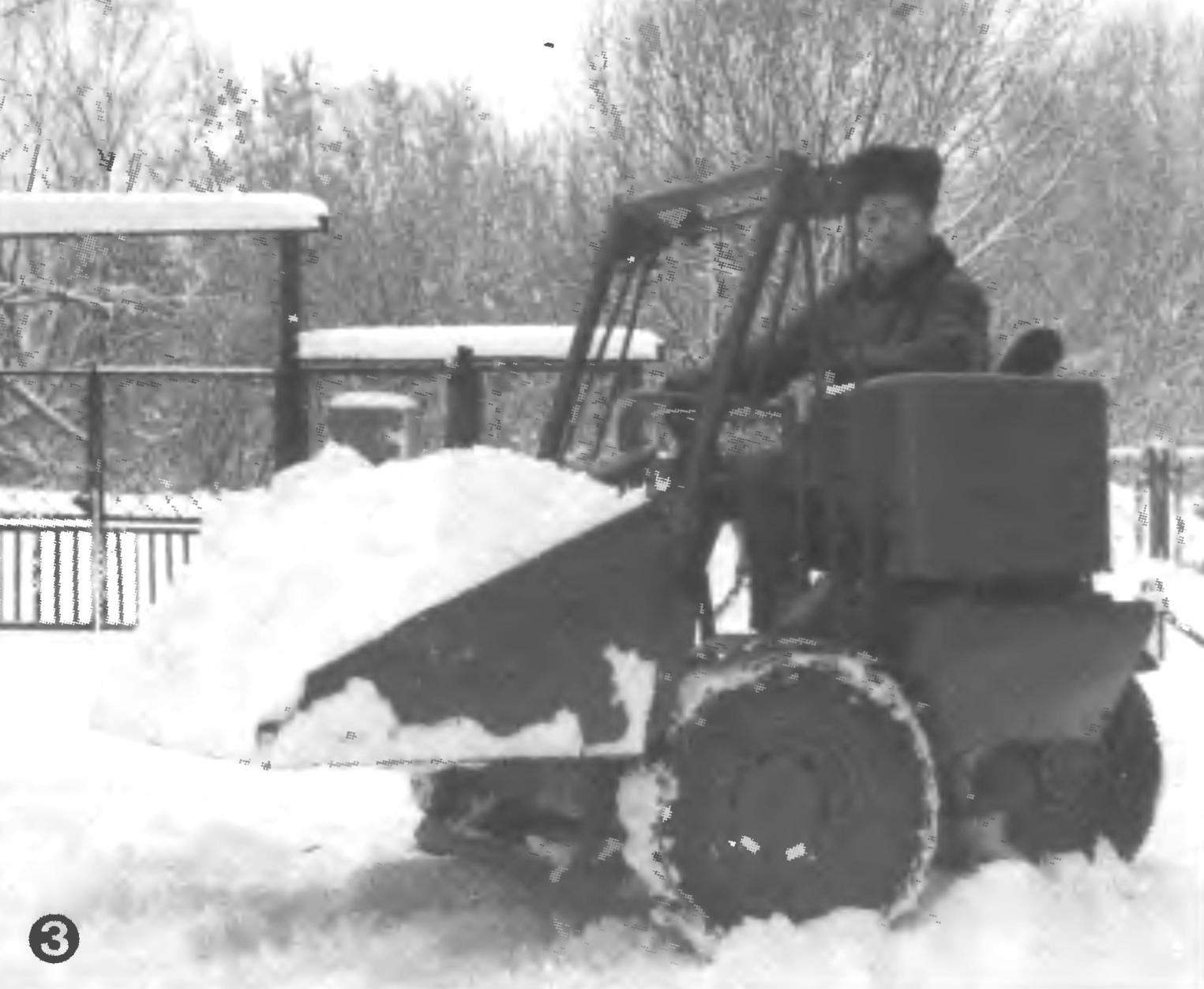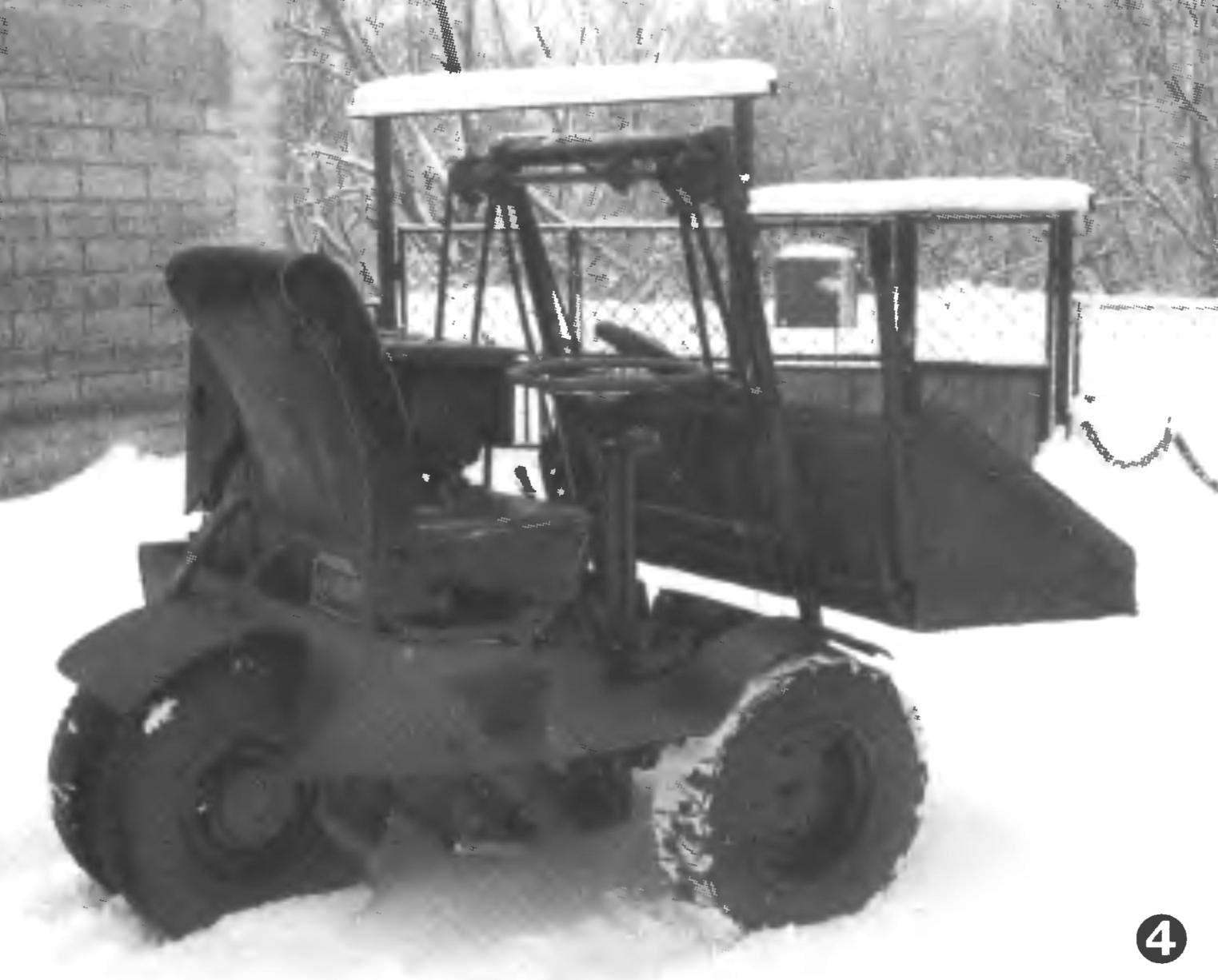 Loader photo 3 and 4, unlike the previous one, the tricycle scheme with steering-rear (dual) wheel leading the front. In the winter they are equipped with cleats, welded wire diameter 5 — 6 mm. the three-Wheeled design allows to do without the absorbers and provides improved maneuverability. The kinematics of the machine: 1 chain transmission from the engine to the gearbox and lift the clutch, then the gearbox and clutch stroke (modified motor scooter "Electron"); 2 chain drive from the transmission to the differential switch "back and forth".
Recommend to read
A DRILL-MIXER
To liven up the thickened paint, to mix the components of epoxy resin will help a kind of mixer-impromptu; it consists of a drill, a long bolt and metal blades clamped between two nuts...
ROLLER+ROLLER
The device shown in the illustration will be useful to all house masters, making furniture with his own hands. With its help you can easily and quickly roll while gluing forever lagging...