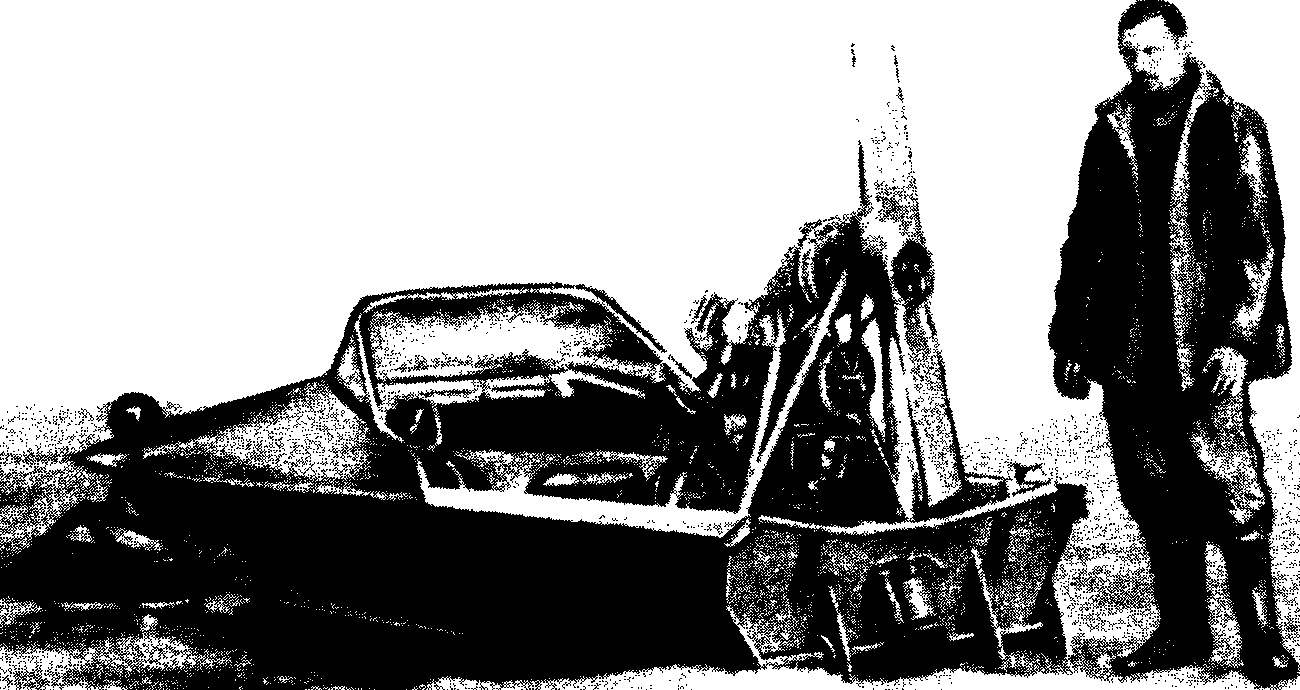 A few years ago we managed to build a very successful vehicle — herohitonakomode. Testing of this device proved to be very successful and we wish our experience could use a lot of homebrew.
Your device we have manufactured for the production of boats, type "amber". A few words about its capabilities. "Hydra" (as we called it) can move across the ice at speeds up to 90 km/h on the water (with passengers) — up to 45 km/h. the Machine is easy out of the water to ice and Vice versa, from the ice into the water. Transportation "Hydra" to the river is its course for a few minutes on the boat, installed wheels, and it's easy transformirovalsya in the aircar.
But the universality of the "Hydra" is still not the main "highlight" of the device. The main advantage in the highly original the drive from the engine crankshaft to the shaft of the propeller. The role transmission plays a V-belt CVT from a snowmobile "Buran", which gives aerobody with such automatic transmission of a number of advantages over devices that use other ways of converting engine power into thrust.
Briefly, here are the main benefits of using V-belt CVT to drive the rotor.
1. Our engine is extremely easy to start hand starter; air screw remains stationary and starts to spin only when the rotational speed of a crankshaft of the engine reaches 2000 min-1.
2. After starting the engine can run at idle and not rotating the air screw, which greatly increases the safety of the vehicle aredigital.
3. When idling the crankshaft of the engine "Hydra" is not experiencing a substantial alternating loads, as it happens in those power plants, where the propeller is mounted directly on the motor shaft. This greatly increases the life of the crankshaft and its bearings.
4. Propeller Hydra spins smoothly, without sudden jerks, which significantly reduces the requirements for attachment of propeller. On "Hydra" propeller mounted on the shaft, only the cylindrical pin Ø 6 mm.
5. The gear ratio of the CVT V-belt is automatically set by the centrifugal regulator and the load clutch of the CVT depending on the engine speed and the resistance to rotation of the propeller. This means that in case of engine operation with fully open throttle the engine speed will be 5000 min-1 regardless of whether the boat to stand or to move at full speed. The frequency of rotation of the propeller will vary depending on the speed of herohitonakomode.