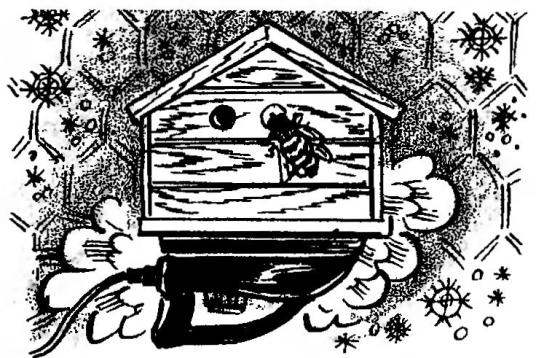 Going to put the hives in your apiary improvised electronic thermostat — you will not regret. Because it is simple, in General, the device will create for bee colonies conditions, like the comfort, the economic feasibility of which has been repeatedly pointed out, and the magazine "modelist-Konstruktor" (see for example, №10'93, 12'96, 1'2000). The use of a controller leads to decrease almost two times the previous costs feed — sugar or honey because the bees do not have to spend energy to maintain the desired temperature.
Rules for the use of the proposed design for spectroheliograph hives (with automatic temperature regulation in the course of the year) simple and boil down, essentially, to install the optimum temperature (measure it in the area of the lower straps electronic thermometer). Taking into account the physiological characteristics of bees this setting in the spring and summer should be in the range 25 to 27 °C.
In September the temperature is gradually lowered, leading to 20 "C. the disappearance of brood in the hive installed 9— 12 "C. In October, the optimum temperature of 8 °C. And with approach of steady frosts, when the outdoor thermometer shows -8 to -20 °C in the hive to support only 0.4 °C.
The beekeeper must remember that the temperature difference under the cushions and on the bottom of the hive (estronom space) is recommended to maintain in the range of 7-10 °C. for Example, if at the time of spring cleansing flight the temperature under the pillow reached 30 °C, at the bottom of the hive (under the framework) it should be 20-22 °C. This will allow the bees to warm their nests with much less surgey to go by the time spring cleaning flyby viable, with large areas of brood and to create a strong family — the key to a successful honey crop.