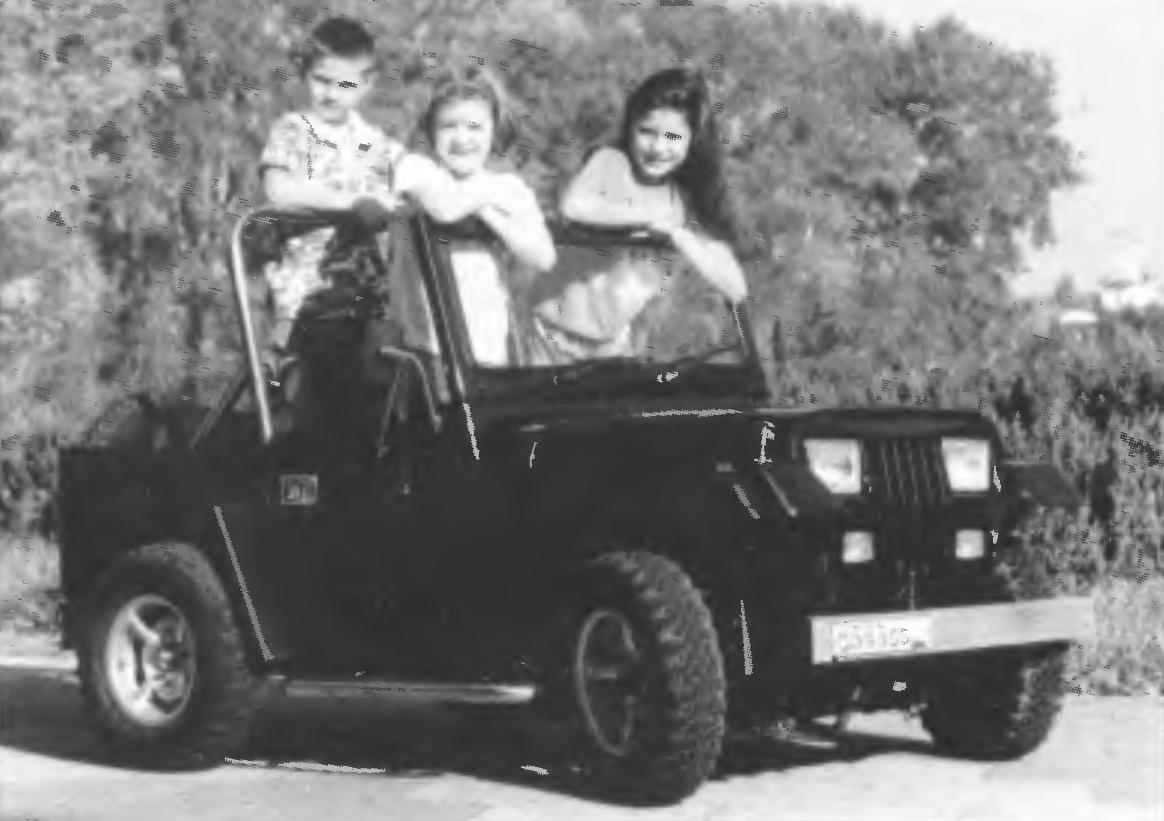 In the environment of Russian Amateur designers a lot of those who gladly builds original cars, not only for themselves but also for their children. The website "Modelstructure" published and will continue to post photos and descriptions of these children's cars.
This lovely jeep was built for his daughter's teenage E. Kolesnikov from Krasnodar.
For nearly two decades Edward E. is professionally engaged in repair of bodies of cars. So that knowledge, experience and skills he does not hold. Yeah and recruitment is required for handmade components and details of the problem for him was not. That's why the jeep for ten years my daughter was fantastic!
I built a small car just. In the garage put daughter Lyudmila on a stool, looked at her, hanging on the wall, and pictures depicting American jeep "Wrangler", an example, figured possible dimensions. To work it took a steel plate hammer, metal shears, and spot welding. There were suitable components and parts.
The body is made entirely of steel sheet with spot welding and under the units, which were in my possession. This petrol engine from a scooter Suzuki with a capacity of 6 HP and a working volume of 50 cm3 with the variator and starter motor (installed in the engine compartment in front of and connected with the rear axle of the chain transmission); suspension from wheelchairs motorized wheelchairs (bearing wheels with hubs and brake cylinders, rear axle with front and rear gears, hand brake); brake master cylinder and hoses from the car VAZ-2108; lights from some Japanese cars; "moskovichevskoe" front; standard battery capacity of 55 A h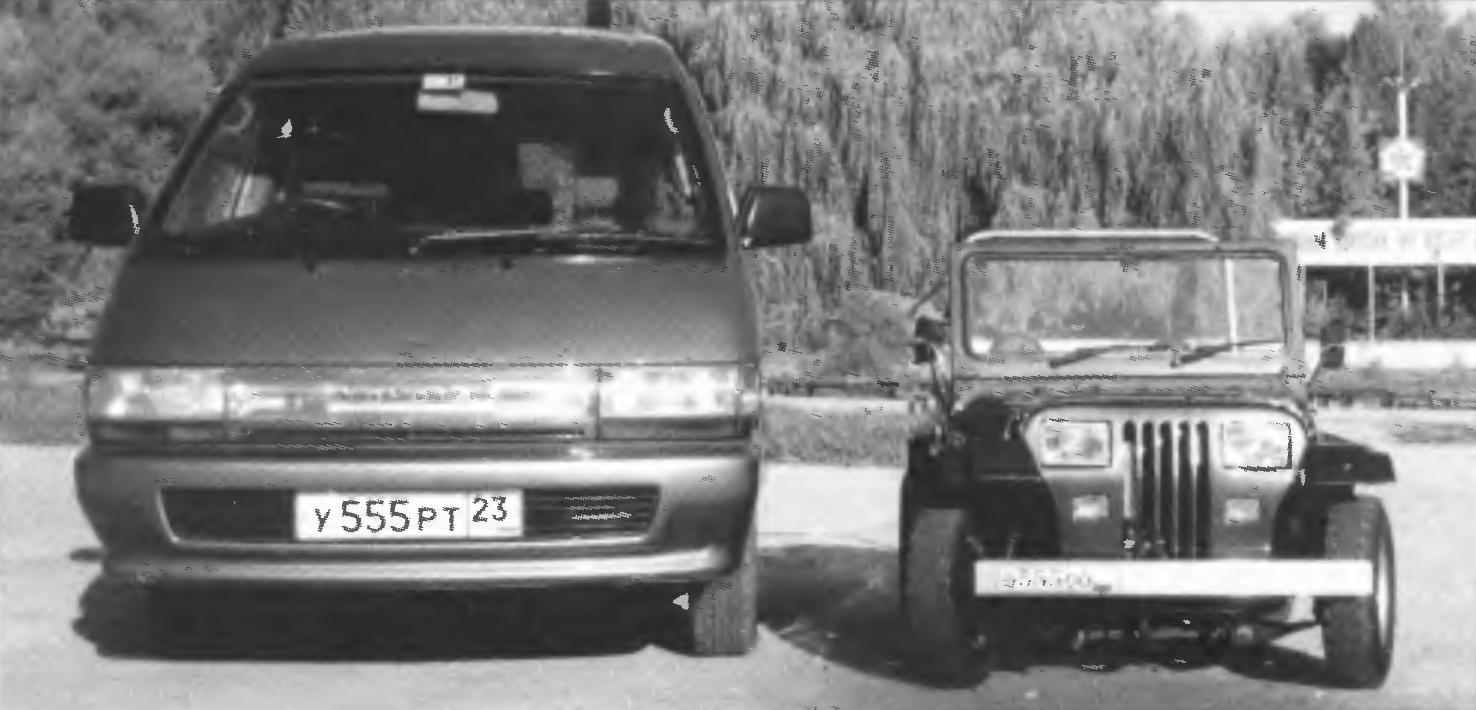 The jeep is small, but perfectly formed!
---
To move the car a softer suspension made independent. The two lower front control arm — silentblock; cropped actuators with spring-loaded levers back from the sidecar.
Steering wheel and pots — oil (2 l) and fuel (5 litres, with a sensor on the VAZ-2108) — homemade. Seats with frames of thin steel tubes, covered with foam and leatherette, also homemade, is equipped with "the Zhiguli" the slide and the folding mechanism. Seat belts borrowed from the car "Opel".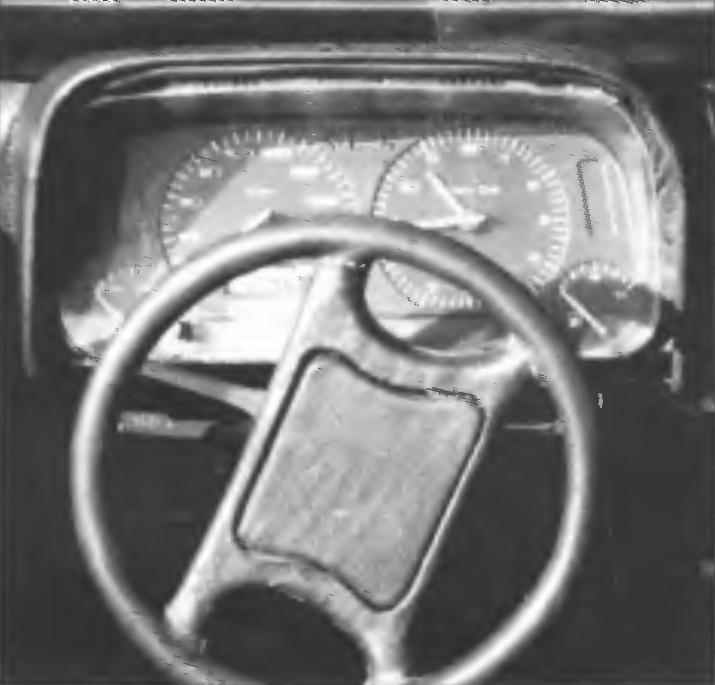 The right front seat with the side lever, locking Japanese door lock, can be pushed to the dashboard in order that the passenger was able to sit in the back of the couch. His back mounted speakers in wooden boxes.
The instrument panel is made of sheet steel and covered in leatherette. Instrument — from the "Volkswagen Golf". Combination switch lights, turns, and "janitors" — "Zhigulevskoe", cropped.
Door cars are also homemade, steel, with locks from the trunk of the car VAZ-2105, exterior handles — from the VAZ-2107 and internal — from "Honda". The mirror — "moskovichevskoe".
The car is painted dark green enamel "metallic-chameleon", has a roll over bar from stainless steel tube and a removable canvas roof flap "lightning".
Jeep dimensions: length 2200 mm, width 1100 mm height 1230 mm Weight about 250 kg Maximum speed 30 km/h.
Recommend to read
"ARROW", DID NOT MEET EXPECTATIONS
Shortly after the end of the great Patriotic war in the Soviet Union began to receive numerous captured documents and samples of military equipment. Among them, in a single instance did...
"GOLF" FROM MITSUBISHI
Mitsubishi Lancer 2005 issue. My first meeting with the Mitsubishi Lancer took place at the uncontrolled intersection. Thump in the left door of my "Fields", the gnashing of metal on...