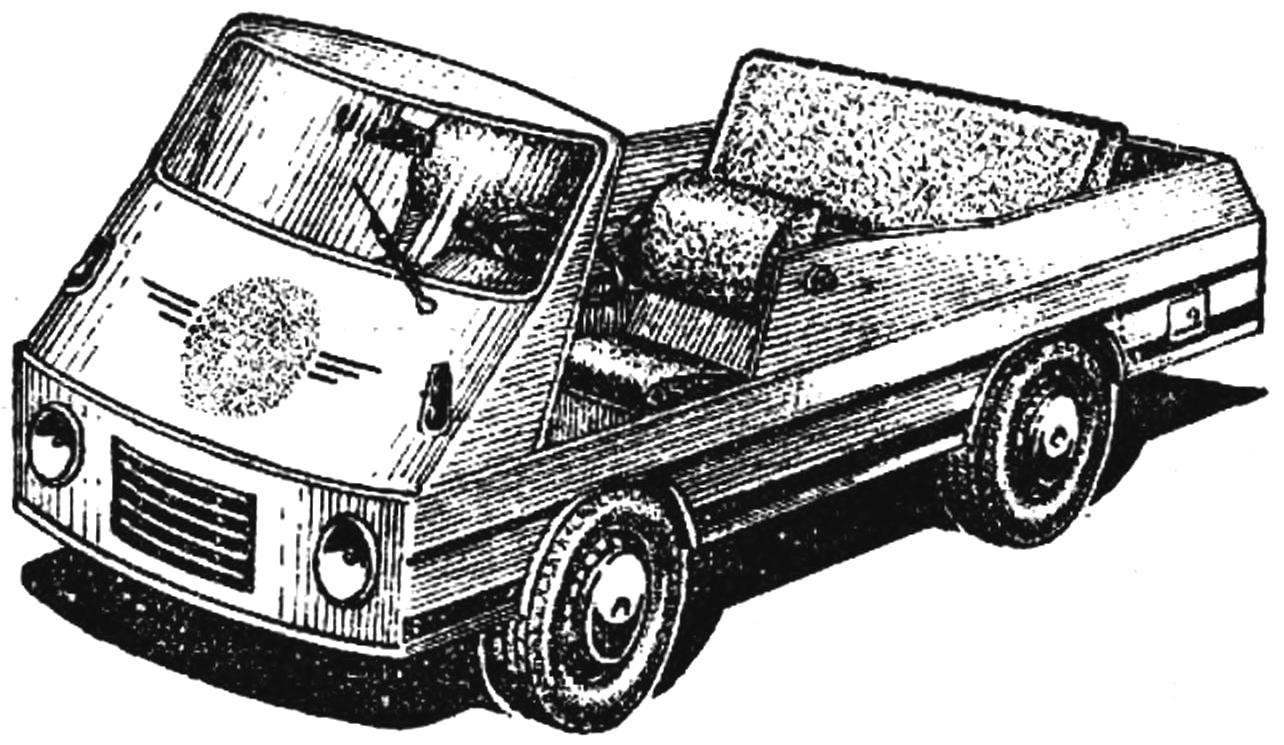 Practice Amateur autocostruzione, including my personal, shows that wagon layout with the use of wheels with tyre size 5X10 (motorized С3А) provides a very convenient and rational design of little micro-car. That is my "Mikrus". It is stable, holds the road well, speeds up to 90 km/h the engine under the driver seat and the passenger increases the useful volume, makes the body more succinct. The interior is spacious, seats are arranged, which is convenient for overnight stay and rest. One cannot underestimate the capacious trunk: there is, for example, you can install a baby carriage, not looking. In the right corner of the trunk easy to install the battery, and in the bottom of the fuel tank from the car ZAZ-966. Made for the base, they both increase the load on the rear axle, which improves traction of the drive wheels. And convenient access to the engine: the hood folds with the seat, driver and passenger; repairing and explore without leaving the salon. For transportation of bulky goods — TV, washing machine, fridge — enough to move the back seat forward and fold the seatback or delete it. Get a small truck.
Engine "Micros" — from motorcycle K-750. Held a little refinement to increase its power. Stripped and polished suction channels in the cylinders, also machined on the outside diameter of the plate inlet valves. The engine is equipped with two carb-TO-125П and paper air filter of the car "the Zhiguli". This improved throttle response and increased engine power from 26 to 30 HP the car has got good acceleration. The intersection I'm going faster than "Zaporozhets", and on the long climbs often surely going to overtake. Fuel is supplied to fuel pump (from a car "Zhiguli"); a drive shaft generator — mechanical. Having a low height, the engine is well linked.
Cooling air, by a fan. To install it in the front axle crankshaft tapped M20X1,5 screwed and the platen of the fan impeller, and put the gear to start the engine with the electric starter. Used gear from the main gear motorized С3А (reverse), the ratio is 1 : 8.
I in detail don't stop at design engine cooling and coupling the gearbox to the engine — there is no much innovation. However, if we talk about further improvements, instead of one centrifugal fan can produce two axial and continued to impose their shaft pulley and the crown to run the electric starter. And the gearbox is good to use a motorcycle MT-9 Dnepr: the car will have a reverse. It is also useful to set the engine on the frame on the pillows, and not on the rubber bushings, as is done in "Microse".