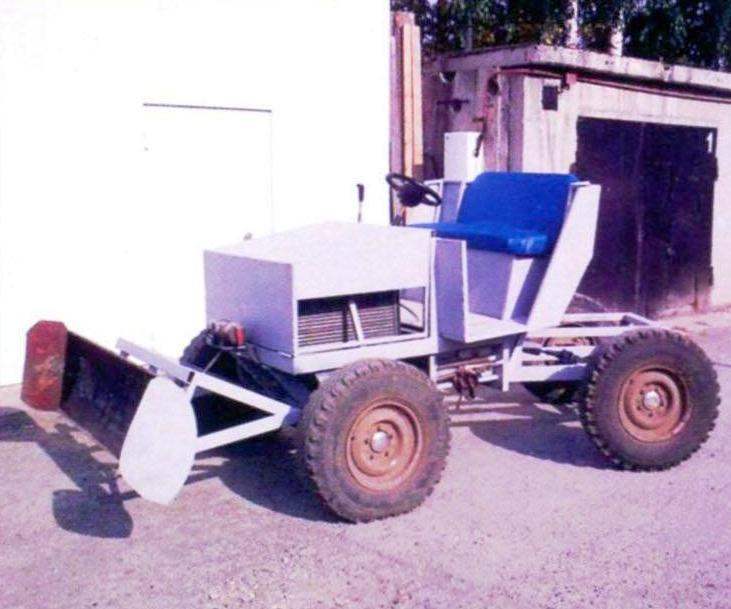 Mini tractor built for a friend, a neighbor. The machine is designed for layout of the infield, clearing of snow from driveways and walkways, towing a cargo trailer. The engine and gear shift – from the car "Oka" (welded differential). Transfer case and the bridges – from the "Niva" car without alterations.
Frame – double ("tipping") bridges rigidly welded to the side members. The site of the fracture – knuckle from the "Mitsubishi-Pajero-2".
Wheel with outer tyre diameter 700 mm, from "Fields".
The first downshifts at 1000 rpm gives скорость1 km/h; fourth, increased at 4,000 rpm – about 27 km/h.
Steering – some cars converted; brakes – only on the front wheels.
N. The ZINNATULLIN, Perm
Recommend to read
"TRIPOD" FOR THE ROD
Sometimes in fishing there is a need to put the bait, take the bait, Sneath from the fire pot with the finished soup, and the hand is not even an ordinary slingshot. To get rid of this...
"WE WERE SHAKING THE BUSES CLOSE…"
City bus ZIS-155 production in 1949. The development and expansion of cities accompanied by the concentration of citizens in residential areas and, consequently, the factories in the...