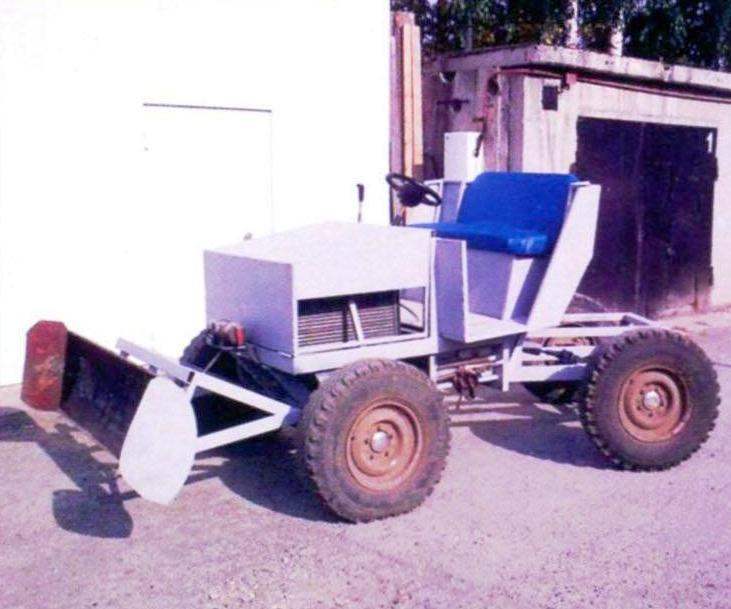 Mini tractor built for a friend, a neighbor. The machine is designed for layout of the infield, clearing of snow from driveways and walkways, towing a cargo trailer. The engine and gear shift – from the car "Oka" (welded differential). Transfer case and the bridges – from the "Niva" car without alterations.
Frame – double ("tipping") bridges rigidly welded to the side members. The site of the fracture – knuckle from the "Mitsubishi-Pajero-2".
Wheel with outer tyre diameter 700 mm, from "Fields".
The first downshifts at 1000 rpm gives скорость1 km/h; fourth, increased at 4,000 rpm – about 27 km/h.
Steering – some cars converted; brakes – only on the front wheels.
N. The ZINNATULLIN, Perm
Recommend to read
YOUNGER BROTHER
A mini-tractor, which is presented to the readers of the journal "modelist-Konstruktor", is the third built by me. His frame is "broken", consists of two articulated half-frames, as in...
CAR ON THREE SQUARE METERS
When the car pulled into the yard, someone was disappointed: "Well baby we've got!" And while the car was at the lab club of young motorists, its size seemed quite reasonable, but on the...