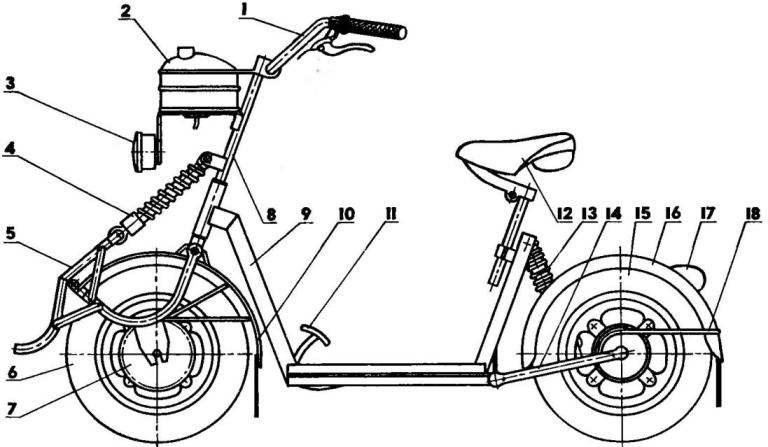 Conceiving the design of the moped, I set a goal to make it easy to operate for the driver any age. This moped I have and get: easy to control on the road and on the dirt road, with adjustable height of driver steering and saddle, stable and powerful at the expense of front-wheel drive with unpretentious D-6 engine. On the latter suffice it to say that it starts as a scooter with a push.
Since a moped is designed for use mainly on rural roads, its front wheel is made not only leading, but also wide. I used the rim from mini-mokiki (without brake drum), putting him on a wider tire — scooter Tulitsa (with dimensions of 4.00—10″).
In the wheel hub on the side I drilled four holes for the bolts securing the driven sprocket (z = 41,1 t = 12,7), a removed rear wheel to outdated moped brand ZIF. (I note parenthetically that the increasing speed at a constant drive on the asphalt on the driving wheel to put the sprocket with fewer teeth.)
Then took over the manufacture of the motor frame, articulated in my design with the front fork (for the sake of brevity I would call this combination "motor frame front fork"). Since the combination bears quite a lot of loaded assemblies, I made it from durable water pipes.