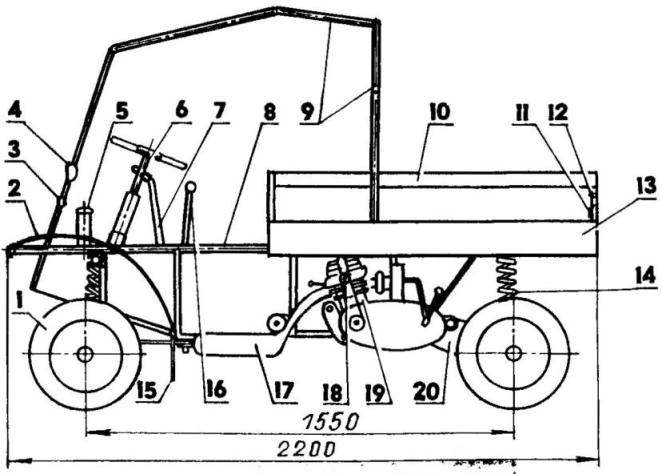 In a country HOMESTEAD or farm, however small, any mechanized cargo vehicle can help a lot. It helps to save money and power. Of course, when it is simple and reliable. Preferably, the machine was small in size for maneuverability and had the power (even at the expense of speed). Permeability it should also be on top. Road on not very much welcomes the emergence of these self-made vans on the highway, so their destiny is mostly unpaved country roads. As a rule, on such roads, two clear of the track (after all, they don't even profile), so they wheeled transportation vehicles ("ants", power tillers with trailers is the most affordable for most owners) is difficult.
These circumstances suggested to me that we need to design a simple four-wheeled truck (or rather, self-propelled cart) with a motorcycle engine that was made almost of those materials, parts and assemblies, which were at hand.
This motorized engine assistant VP-150M from scooter "Vyatka" is well-proven, and with time and according to his image and likeness, with some improvements, I made another similar car with the engine from a motorcycle "Kovrovets". Machine substitute for each other when one of them is down for maintenance or repair. But the second I use in the summer as she has only one driving the rear wheel. The first, with both rear wheels (like a race Board) — in the winter, and pet in bad weather. The differential between the drive wheels yet, but its a design I've already thought about and even made his sketches. It is not quite the usual side differential on the master (extended output) shaft of the truck engine. If the trials are successful, be sure to share the development with the readers of "Modeller-designer". But suspensions will be discussed later.