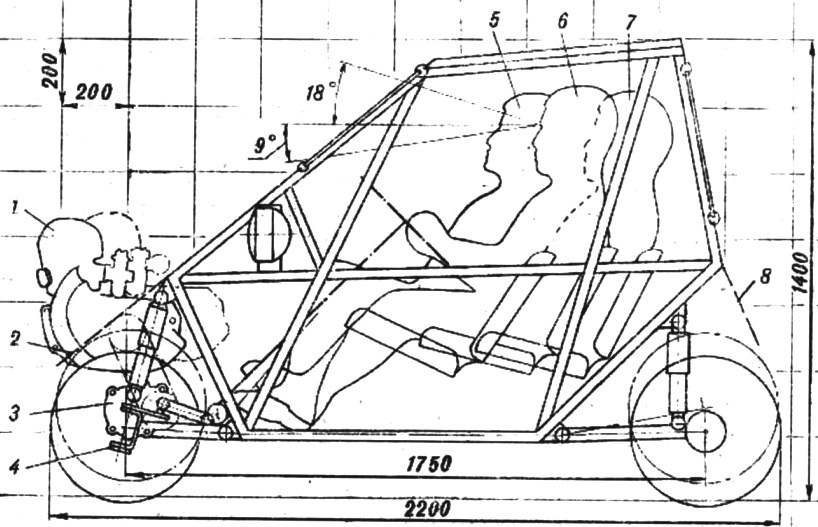 The search for the optimal design of passenger car is a matter of time. The solution to this problem and doing powerful design Bureau leading automotive companies and associations, and Amateur designers. Our magazine has repeatedly appealed to the topic. Today we offer enthusiasts autocostruzione two promising development of the Moscow engineers P. Zak and E. Rudyk.
I. Ilf and E. Petrov claimed that the car is not a luxury but a means of transportation. It's hard not to agree, because, among other things, the car saves us time, makes it independent of urban passenger transport. However, he always used rationally? Statistics show that the overwhelming majority of the time a personal vehicle is operated only by one person. And if it is designed for 4-5 people, this means that are used irrationally and gasoline, and spent on its construction materials and tools. In addition, the car takes on the streets of many places.
Automakers around the world make attempts to resolve this contradiction. In 1955 in Italy produced double "Isetta" length 2.25 m with a 9.5 HP motor it was decided her entrance through the front door, so the car could Park face-to-sidewalk. Produced and very compact cars. For example, "flipper" in France. Its capacity is two people (adult and child), length 2 m, width 1,17 m, height-of 1.44 m Trying to solve this problem and Amateur designers. In our country the technical requirements for passenger cars manufactured on an individual basis, allowed the construction of vehicles of class "Lada" or "Zaporozhets", but less.
Last, in terms of homebrew, more attractive, Designers sidecar, let's call it, are not constrained by traditional forms and configurations of multiple machines.
Besides make the scooter much easier than a car that is close in parameters to the "Zhiguli", and this is especially important in the youth technical creativity, because it is no secret that the creation of machinery, which occupied prize-winning places at competitions of traditional homemade machines, required 5-6 or more years.
An exemplary model of double sidecar was at the time the tricycle "Friendship" G. S. Malinowski ("M-K", No. 5 of 1972). Front axle borrowed from the sidecar С3А rear suspension with motor — scooter. The body in front looked like a car, and the rear was narrowed and resembled the stern of the boat. The result is a unique, delicate design. From Malinowski found many followers and similar tricycles in the early 70-ies can be found in different parts of the country.
The current technical requirements do not permit the construction of a three-wheeled car scheme. Therefore as a possible alternative is "Motorcar", created on the principle of aggregation. The basis of it — a body with one rear door. Rejection of side doors allows you to create a tough and durable box design, ensuring the safety of the crew in the event of a traffic accident. Its weight is minimal, engine — motor, with ample urban pickup.