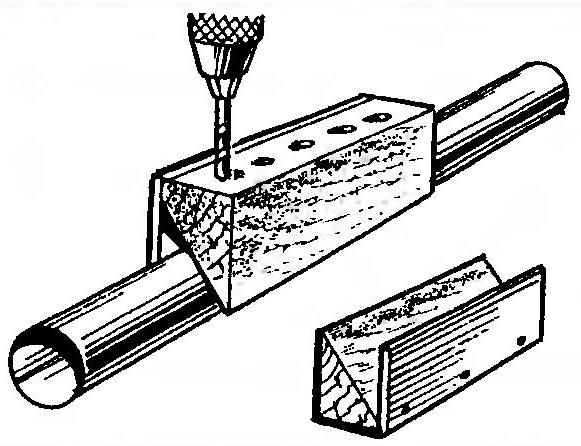 In the manufacture of structures made of pipes of the same diameter to neverlet holes in them easily and quickly will help here's a simple jig. It consists of a metal plate and wooden block in advance which is made a longitudinal cut. In the bar there are several vertical through-holes for drill bits of different diameters. Thanks to the conductor drill bit will not slip off from the pipe, and therefore do not need to do this pre-ncarnate the place of drilling.
Recommend to read
REINVENT THE WHEEL
With this proposal, despite the well-known skeptical saying, our magazine appealed to readers in No. 6, 1969, published a compilation about some unusual designs and a description of the...
WELL, JUST VERY FLAT
Indeed, the proposed chair for the hallway is not just folding, but almost entirely flat, as folded, becomes almost equal to the thickness of the four panels, from which his legs (or...