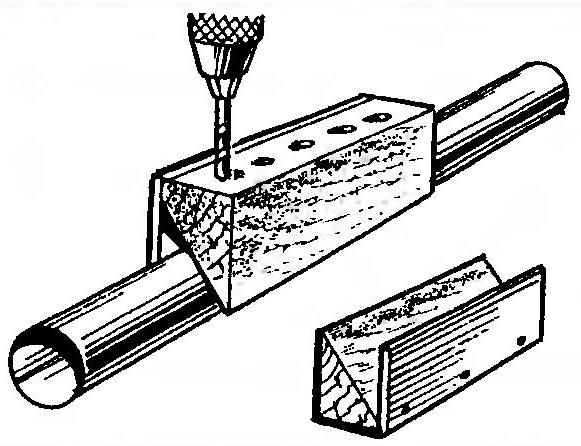 In the manufacture of structures made of pipes of the same diameter to neverlet holes in them easily and quickly will help here's a simple jig. It consists of a metal plate and wooden block in advance which is made a longitudinal cut. In the bar there are several vertical through-holes for drill bits of different diameters. Thanks to the conductor drill bit will not slip off from the pipe, and therefore do not need to do this pre-ncarnate the place of drilling.
Recommend to read
BUILT-IN PROTECTION
Not every radio has a built-in protection against so-called "polarity" and incorrect connection to power supply with a known high voltage (which is necessary, unfortunately, to...
PRECISION 0.1 — WITHOUT A MICROMETER AND VERNIER CALIPER
Measure the bore diameter or roller to determine the size of the gap with an accuracy of 0.1 mm it is possible not only with the help of micrometer, Vernier caliper or feeler gauge. Each...