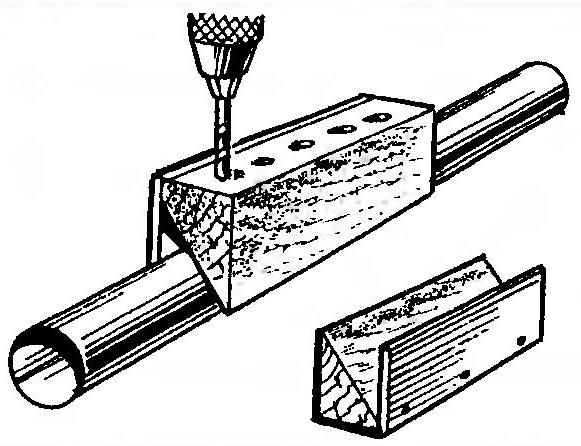 In the manufacture of structures made of pipes of the same diameter to neverlet holes in them easily and quickly will help here's a simple jig. It consists of a metal plate and wooden block in advance which is made a longitudinal cut. In the bar there are several vertical through-holes for drill bits of different diameters. Thanks to the conductor drill bit will not slip off from the pipe, and therefore do not need to do this pre-ncarnate the place of drilling.
Recommend to read
THE BOX-SET
Even the strongest domestic joiners, boldly undertake to produce on their own shelf, bedside table or Cabinet, do not always have the courage to venture more larger items: couch or sofa,...
MODELIST-KONSTRUKTOR 1966-07
IN THE ROOM: Wonderful master (2); Little micro-car, and technical aesthetics (4); Train your visual memory! (9); Water ski (10); Receiver transistors (12); The complex...