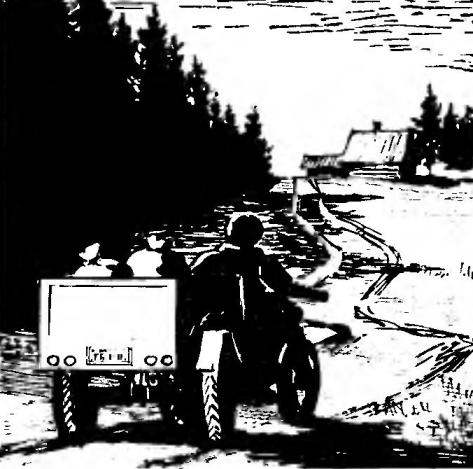 This small trailer was designed and manufactured when our family received a plot of land for gardening in the suburbs of Cheboksary. Immediately there is a need to transport various goods. At that time I had only the Minsk motorcycle and some old nodes from scooter "Tourist". Little motorcycle and need a small light trailer. So its frame is welded from steel tubes of rectangular cross section, and reinforced body made of duralumin thin-walled tubes and sheets, securing the wings with the help of argon-arc welding. Then these two main nodes are interconnected by screws M5.
The trailer has independent suspension with wheel shock absorbers scooter and pendulum levers homemade design. Arm consists of upper and lower shoulders on the housing of the bearing unit and suspension Assembly of the lever. The shoulders are made from steel pipes of rectangular section, and nodes turned.
Each arm impaled on your shaft, mounted between the outer and inner brackets. Exterior made of sheet steel in the form of an inverted trapezoid with a reinforcing flange along the sides and welded to a longitudinal beam of the frame. It is attached with screws rubber stop to limit vertical movement of the wheel. Internal bracket is connected through the spacer with the middle longitudinal beam of the frame.