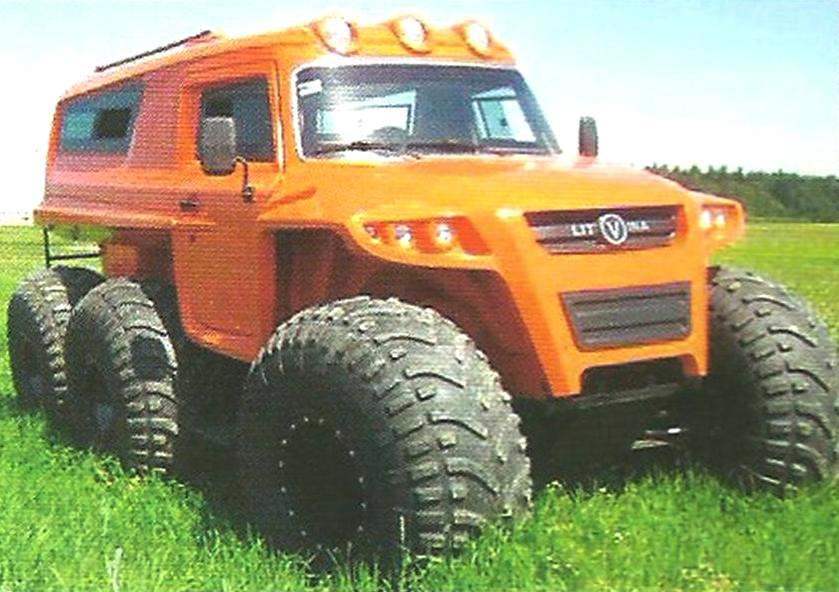 Utility terrain vehicle "Lytvyn-3903" created in 2013. The design of the machine – frame. The body is fiberglass (the frame of steel pipes), 3-door. Salon from the cockpit is not separated. The number of seats (including the driver) – up to 12. Engine – Kubota diesel 2.2 D (Euro-3) with a capacity of 48 HP at 2800 rpm. the multi-mode Transmission: 2WD/ 4WD/6WD. Gear shift – manual transfer case – 2-speed. Main gear – hypoid with limited slip differential Cam (all 3 axes). Suspension on all six wheels chassis – independent, spring, with hydraulic shock absorbers. Front hub – UAZ.
Steering hydraulic power steering and adjustable steering wheel height.
Brake hydraulic 2-circuit with vacuum booster, drum, with automatic clearance recovery. Parking brake – mechanical cable-drive.
Overall dimensions (length/width/height) mm. 5220/2500/2690 clearance of 500 mm.
Maximum curb weight – 3500 kg Max capacity – 1000 kg. maximum authorized speed is 50 km/h. Speed afloat – 3 km/h.
Fuel consumption at a speed of 45 km/h – 16 l/100 km fuel Capacity two tanks – 210 L.
Tire size 22.0/70-20°. The range of operating pressures in them – from 10…25 kPa.
All-terrain vehicle equipped with front and rear electric winches, heater salon forwarding Luggage up to 150 kg, single axle trailer-for low-pressure tires with a capacity of 450 kg, etc.
V. LYTVYN
Recommend to read
SIMPLE, AS A SLEDGE
My snowmobile which I called "Ayavrik", simple in construction, as intended to overcome huge snowdrifts. I was built for moving from hole to hole for ice fishing on a snow-covered ice,...
CAR ON THREE SQUARE METERS
When the car pulled into the yard, someone was disappointed: "Well baby we've got!" And while the car was at the lab club of young motorists, its size seemed quite reasonable, but on the...