There are many enthusiasts for whom the recumbent was the only passion and hobby. And there are people for whom the velomobile is literally life. More precisely, the ability to move that, in General, interrelated.
And for such a vehicle is important, not speed, not capacity, and most other specifications: light weight, maneuverability, ease of management. And most importantly, that the recumbent was comfortable and not difficult to operate, occupy little space during storage, and, preferably, to serve as a good simulator. Who among the optimists who, for whatever reason, restricted mobility and social circle, not want to recover your mobility!
Abroad today many firms produce pedal cars for the disabled.
These machines have a foot, hand or pedal-power, or combined. Often such velomobiles install an electric-powered battery. For people with limited mobility created and super-fast sports pedal cars and even tracked velope-water, on which the most desperate optimists with disabilities rise even high in the mountains.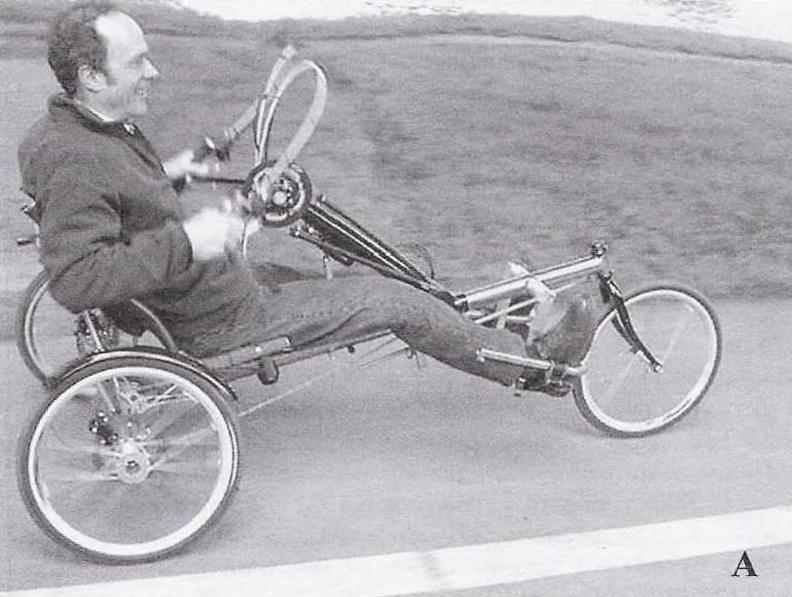 But that's not us. And imported velomobiles are not always fully meet the expectations of the future owner. Because you want to be in the design were taken into account it is your characteristics, your capabilities, your wishes. In short, we need an individual project! But will take anyone over him?
Approximately so, probably, they reasoned, energetic girl with a disability from Nizhny Novgorod, the zomb-hastily tried to find the manufacturer of personal recumbent for myself. In the end, the manufacturer has now.
And that Sunny may day in the room the girls entered a miniature recumbent (and more accurately be called "Galahad") made by the Moscow firm "ETRA". More favorite bright green color design Olga Zotov cheered the name of the letters of the first name and last name Zotova Olga — "Salga". It was her recumbent!
The first test, the first "adjustment" to the new design. I must say that Oli already had the experience of skating on a makeshift wheelchair-analogue. But he didn't bring any satisfaction or joy. And now: two hours of initially taming unruly pedals and control lever and "Saliga" slowly rolled to develop the area, to blaze new trails in parks, shops, theatre. But who knows where now finally decides to go her mistress!
Recumbent, or rather velokolyaska designed to suit the height of owner: 155 cm Its dimensions (width, height, length) 640x910x1180 mm in the folded state, respectively: 640x650x920 mm.
"Zolga" simple in design, compact, and even partially folded for storage. But most importantly — has amazing maneuverability. This feature allows you to drive it, not only on the street, but no one in the room. Velokolyaska has a width of only 640 mm, and therefore a narrow Elevator door openings for it not a barrier. Weight — 19.5 kg "Soligo" can be used as a shopping trolley in the supermarket: the U-shaped support seat back in this case plays the role of a handle for pushing the stroller in front of him. Holding this pen, Volokolamskoe possible to lower or raise the stairs or help the owner to overcome the curb.