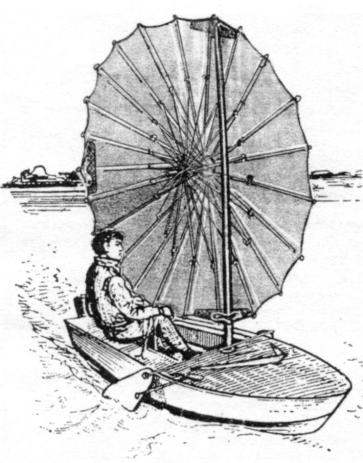 I think that the idea of using the umbrella as a sail come to mind to anyone who has solved it in a strong wind. However, the first whose attempt to use the umbrella instead of sail was in due time recorded in the journal "modelist-Konstruktor", was Georgy Arbuzov, one of the pioneers of Windsurfing in the country and Chairman of the section of Windsurfing at the FPS of the USSR.
In the mid 1970-ies he made his sailing Board, but to test it on the water it was not possible – the mast was not yet ready. Then George instead of sails took a big umbrella, and it turned out that the windsurfer with this improvised driver demonstrates good driving performance. However, at that time the idea hard round sails further development has not got to competition was allowed only classical windsurfers. * * *
Meanwhile, many years later, the idea Arbuzov was implemented on a compact Dinghy (or rather, umbrella-bot) simplified construction. As the sails that use the sun umbrella with a diameter of 2 m and, respectively, with an area of 3,14 m2.
The body of the boat – wooden, with a frame consisting of three frames, the keel, a pair Besov and four stringers.
The frames are assembled from pine slats 25×60 mm section vpoldereva, and on the frame 1, the joints of the rails on both sides are reinforced by the brackets out of plywood with a thickness of 3-4 mm, and for frames 2 and 3 by a continuous lining of the same plywood.