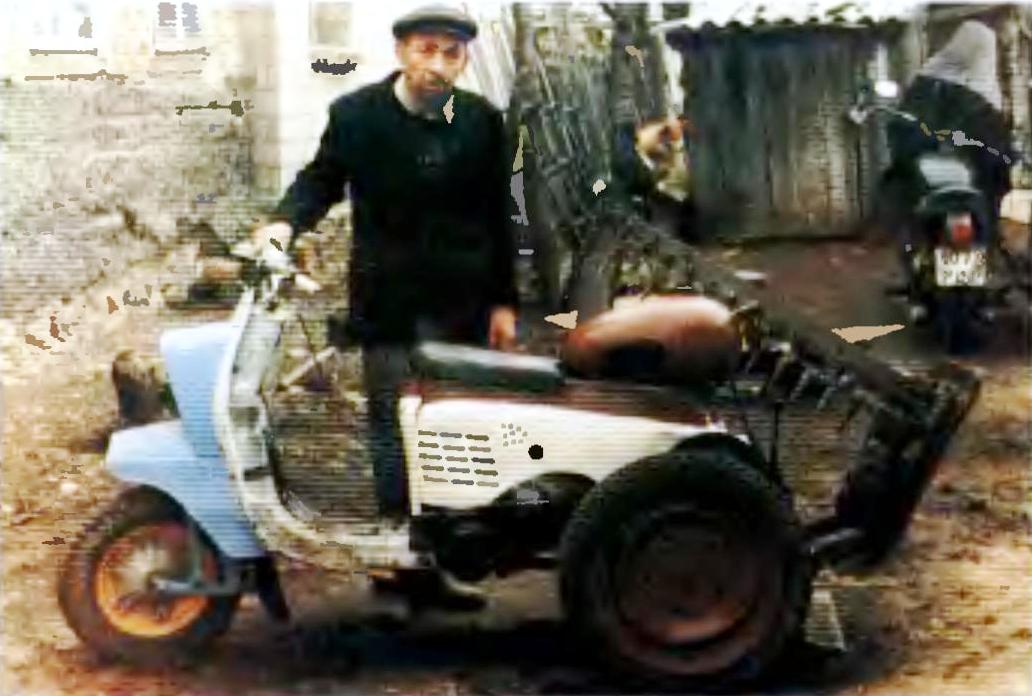 My car is really similar to a scooter, because her front end and engine (except for the cylinder 8 of PD) — from the "Vyatka". All other components and parts taken from motorcycles and agricultural aggregates or manufactured in the home workshop.
The kinematics of the machine is such that the rotation of the output sprocket engine chain is transferred first to the intermediate reduction gearing. Its input shaft is also a shaft: to the asterisk (on the right) or the pulley (on the left) you can attach various tools (circular saw, pump, etc.). With sprocket output shaft rotation circuits is transmitted to the suspension shaft with a motorcycle wheel and to the drive shaft of the mower.
All shafts located in the bearings of the top and bottom frames welded from steel angles and channels lawn Mower pivotally attached to the frame at the rear and consists of a movable platform, which is equipped with angular gearbox and braid with six pairs of fingers. Ibid., the rear focus and the levers of the mower.
Dimensions machine: length 1800 mm, height 1050 mm, rear track 700 mm ground clearance 250 mm.
N. KOSTENKO, village Kazanskaya, Rostov region.
Recommend to read
Helicopter S-55 I. Sikorsky
Helicopter S-55 Sikorsky Aircraft company, part of United Aircraft Corporation, was designed and built in the late 1940-ies, during the period of rapid progress in the global helicopter...
IF YOU NEED A TRUCK
"Passenger car" combined with cargo trailer is an extremely convenient vehicle. However, it is not without flaws, which sometimes nullify all its advantages. In particular, significantly...