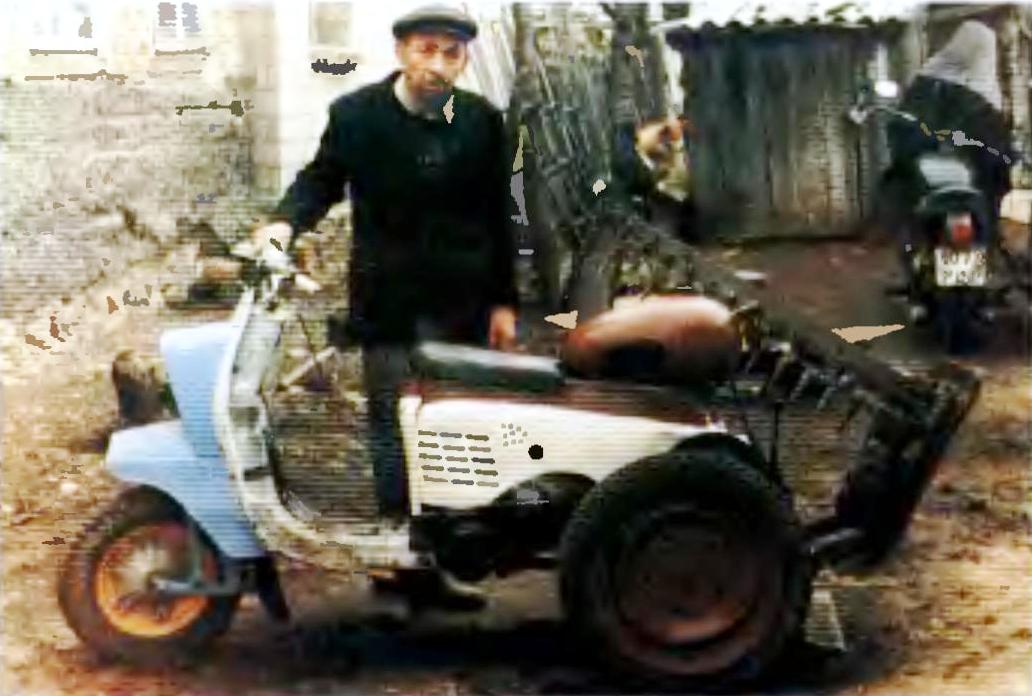 My car is really similar to a scooter, because her front end and engine (except for the cylinder 8 of PD) — from the "Vyatka". All other components and parts taken from motorcycles and agricultural aggregates or manufactured in the home workshop.
The kinematics of the machine is such that the rotation of the output sprocket engine chain is transferred first to the intermediate reduction gearing. Its input shaft is also a shaft: to the asterisk (on the right) or the pulley (on the left) you can attach various tools (circular saw, pump, etc.). With sprocket output shaft rotation circuits is transmitted to the suspension shaft with a motorcycle wheel and to the drive shaft of the mower.
All shafts located in the bearings of the top and bottom frames welded from steel angles and channels lawn Mower pivotally attached to the frame at the rear and consists of a movable platform, which is equipped with angular gearbox and braid with six pairs of fingers. Ibid., the rear focus and the levers of the mower.
Dimensions machine: length 1800 mm, height 1050 mm, rear track 700 mm ground clearance 250 mm.
N. KOSTENKO, village Kazanskaya, Rostov region.
Recommend to read
THE PATCH ON THE CYLINDER
To mark the holes located at certain angles on cylindrical parts without special tool depot is quite complicated. To help out in this situation will a strip of adhesive plaster or tape,...
CRUISER OUT IN THE OCEAN
The Crimean war clearly demonstrated the decisive superiority of steam ships over sailing. However, in tactical and in strategic terms, the role of the fleet has not changed. Admirals...