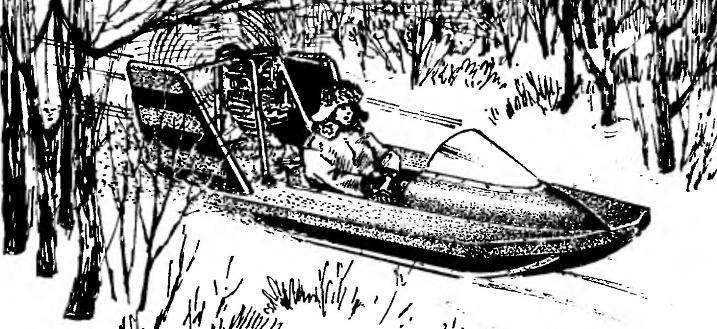 For open snow-covered expanses, in my opinion, there is no better vehicle than a snowmobile. No other ATV can not be compared with them in speed and terrain. Noise really much. But what a fun rapid slide through the untouched virgin snow! Snowmobile, nicknamed "Otter" including the, shall we say, ducking and diving — at the speed they can, even through the sparse bushes "pronanut," I built in one breath: so very recently I wanted to have a car like that. And so the design of it is thought out thoroughly, and the required units, units and materials prepared in advance.
Snowmobile structurally composed of a boat-ski open single cabin in the Central part. The cabin is extremely simple: it contains only the driver's seat, controls and Luggage rack. From the incoming air stream of the driver protects the fairing with the windscreen.
Behind the cabin, at the stern of the sled, installed the engine frame, to which is suspended the gasoline engine cooling air power 18 HP with a propeller diameter of 1200 mm. ibid., aft, located on the sides of the two aerodynamic keel, while providing the protection of a zone of rotation of the propeller.