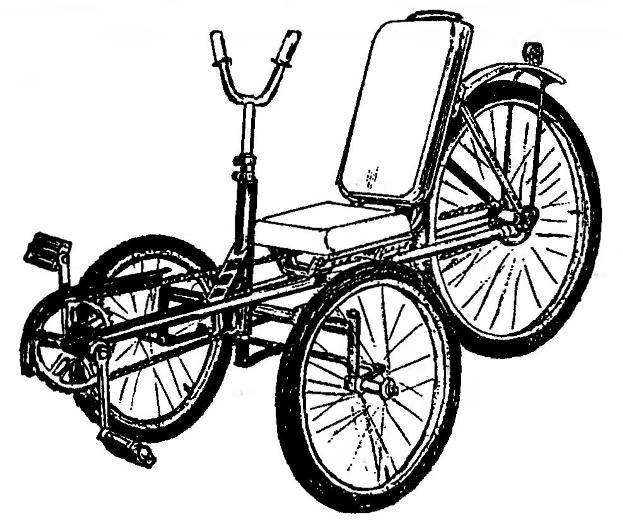 Besides simplicity, the main advantages of Cycling, this is a pleasure velokolyaska before its progenitor and advantages, the main of which — good stability in motion and at stops and comfortable as in the car fit the driver. The prototype was recumbent, published in the "Modeller-designer" № 9'2000 But it's a pretty complex space frame, two-wheel drive and steering made me think about how to simplify these nodes and make the car easier. I think that the goal was achieved and even receive a copyright certificate for the prototype.
Offer readers the description and drawings of an improved veloceleste.
Such a "reduction" of the velomobile prototype led, in fact, to create new machine — it remains the only layout: two front steering wheels and one driving the rear. Therefore, before proceeding to the description of the nodes of Volokolamsky, it is worth noting those who are affected the most radical changes.
First, light weight 4.5 kg frame is spatial, it became planar. Second, two-stage drive countershaft (reduction gear) is simplified to single-stage with a long chain, which increased the efficiency of the transmission. Thirdly, the multi-speed drive wheel bushing replaced on the single speed, this eliminated the need for manual brake. Fourth, the handlebar from the seat moved to the usual place on the column in front of the driver that eliminated the extra step in steering. Finally, fifth, "setlanguage" seat replaced by a more simple but rigid with laid back back which has led to a better focus when you press your foot on the pedal, which is especially important when driving uphill.