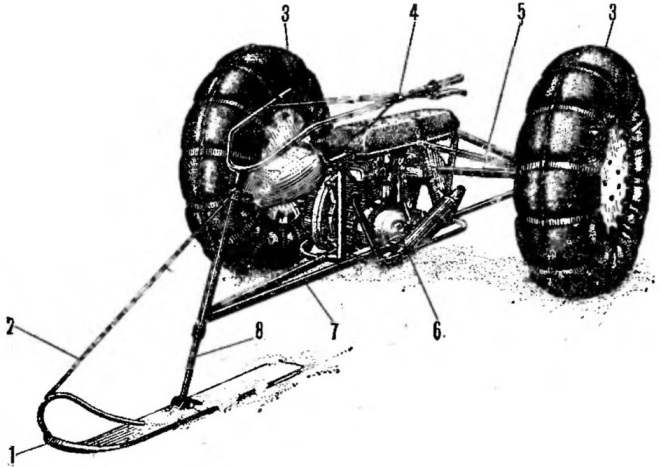 Simplicity of design "Harp" is perhaps unique. In the car a total of six main parts: frame, engine, rear axle, wheels, ski with the steering rod and steering wheel. Reliability and simplicity of the snowmobile complies with the standards that apply to vehicles intended for Autonomous runs over a vast and desolate regions of the Arctic. "The harp" easy to disassemble and in the back of a truck or in the baggage car to transport to the launch site, and there is to collect hours. and a half and to travel.
The frame is made of pipes of square section 25X25 mm, wall thickness 1 mm. top and bottom rails are connected by three elements: the steering bushing, rack and strut.
The steering bushing is a steel pipe Ø32X2 mm, the ends of which are mounted the cage with them pressed in bronze bushings — sleeve bearings.
Stand (pipe section 25X25 mm) welded to the first strut of the lower spars and to the junction of the upper longerons with the longitudinal pipe. Since this node will have the highest impact load, it is reinforced with two gussets.