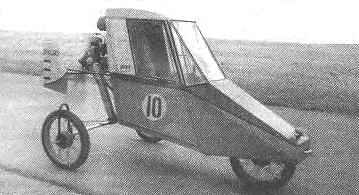 The propeller as the propeller has long attracted my attention. When the "Modeller-designer" were published about cars, it convinced me to make a similar design.
Maybe in the proposed aircar (or rather to say – aeromotor) no special innovative ideas, but the value of it is. he is quite simple and make it possible even for the novice designer, lover from available materials and components using conventional hand plumbing and carpentry tools. Parts that require machine work, almost there. However, the frame needed welding machine.
From the description aeromotor, want to do that before starting the transport of the machine, I usually draw her a sketch of the General form in three dimensions at the scale of 1:10 and on it draw a layout relative placement of are-Gata and mechanisms But this car was different — most of the nodes assemble in place. The hook size listed on cheriah, removed from already made designs and therefore approximate.
Aeromotor frame — welded, spinal type (single-spar). Made from water pipes of different diameter. Thus, the main power elements, the spar and podmetina suika at its rear end from the pipe outer diameter 50 mm; the cross-beams and struts with 30-mm thick, and the console fence propeller of a 20-mm tubes To the front end of the spar (under ppom) progynova bushing steering column from a moped "Riga". Here, under the front end of the spar is brought and the supporting strut, and a bottom front cross-member, which is connected with the spar in the center of the back of his long cross brace Welded together these parts form a hard power triangle.