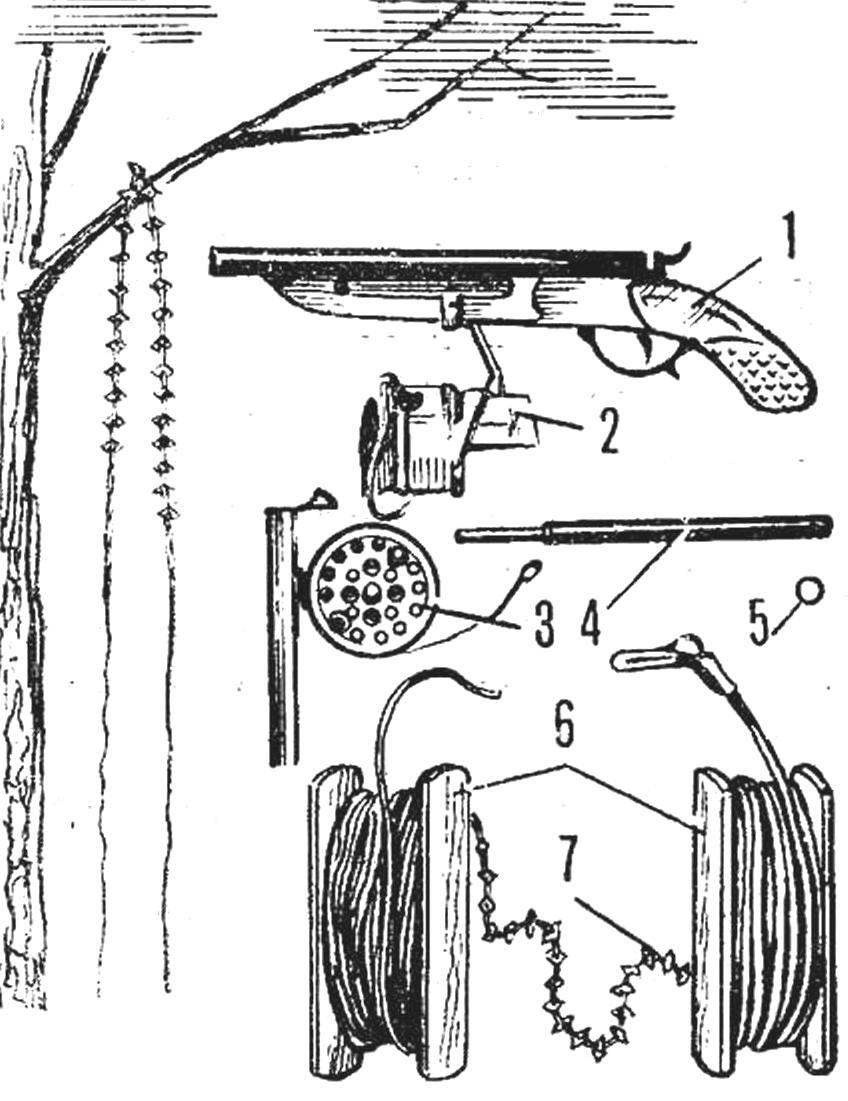 Increasingly in forestry a method of growing seedlings of valuable species of trees not from seeds but from cuttings. It is one thing to cut the stalk from the fruit tree — here a hand will reach for any branch. And how to deal with such forest giants as pine, birch, cedar, larch?
Young scientists and innovators of forestry has developed an unusual device that allows you to ground to cut off the right branch at any height. For its creation were used… the gun and spinning reels.
From single-barreled fowling piece of the 16th caliber is shortened by 30 cm barrel and reduced stock. The fore-end attached inertia-free spinning reel with a hundred-meter line thickness of 0.5 mm. fishing Line is attached to the wooden arrow that's on the other end has a seal made of plaster and is inserted into the cartridge in place of the bullet. The diameter of the boom 14 mm, length 32— 35 cm
"Forest spinning":
1 — shortened shotgun, 2 — spinning reel with line, 3 auxiliary coil, 4.— arrow, 5 — ring, clamping the fishing line to the arrow, 6 — winder with a cord, 7 — saw chain.
Standing under a tree, takes aim to shoot above the branch. Sent shot an arrow with fishing line flies through the branch and falls to the ground. Unhook the boom and tie the line to the other, of a thickness less than 1 mm. thick by Dragging the line through the branch, untie her slim and replace the work of a thick cord with bilateral flexible saw chain in the middle. For cutting cuttings from the same tree through this device takes only 30 min.
This method of producing cuttings has several advantages. It is safe, the cuttings cannot take the strong upper branches of the fruit-bearing part of the crown; not damaged trunks of valuable trees; the cut will be neat, smooth, and the quality of cuttings is high.
All the equipment weighs around 5 kg, it is convenient to carry in a backpack, allowing you to use in the thick forests in the highlands. "Forest spinning" greatly increases productivity and labor costs are reduced by almost 30%.
Recommend to read
COMBINE… CEDAR
Not an easy job, manually to collect in the forest cones pine nuts. In addition, because the cones themselves, not the nuts. They need to be removed and this is done with the help of the...
THE BAIT BUT WITHOUT A HOOK
Fishing hook is such a classic that no one can tell when he appeared. Since time immemorial, the shape of the hook remains unchanged. Come up with a new hook is to offer a new bolt, nut,...