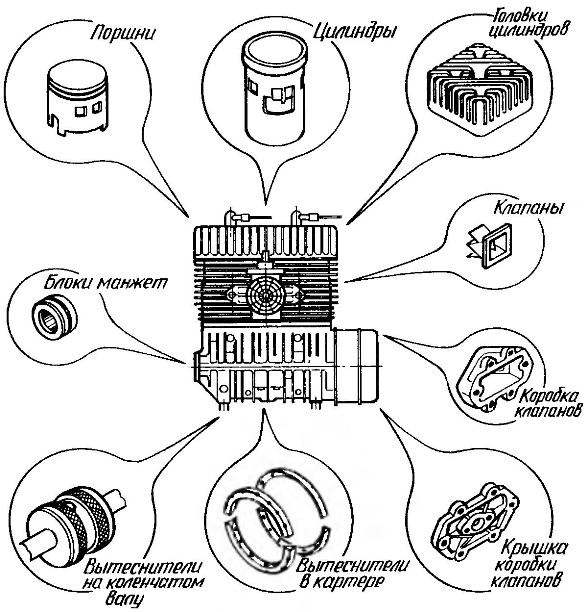 The engine RMZ-640 "Buran" Rybinsk engine production plant is widely used not only on the same snowmobile, but deltalyo. However, if a separate snowmobile owners its characteristics in some way satisfied, then the pilots — with a few exceptions. And the constant threat of overheating of the cylinders and pistons burnout know many people who for a long time dealing with RMZ. So deltaleft trying to replace "shestistrunnoi" engine better, possibly imported or, at worst, to improve.
Ways to improve them, in General, is a bit: either to improve an existing design in detail, or to alter big. The most decisive go on a deep modernization, affecting the major systems of the Rybinsk motor. Regular readers of our magazine know examples of such modernization. The most famous relating to the fall of 1996, given in the publications of "beetle-42: transport to heaven and earth" ("modelist-Konstruktor" No. 8,9,11 '96). Anatoly Zhukov, the designer ultralights "beetle" raised power "shestistrunnoi", providing it the cylinders are individual carburetors and mufflers. Temperature same problem he decided to radically modifying the engine with the air to liquid cooling.
However, the reserves RMZ-640 regular complete is far from exhausted. The opening of these reserves is being done by many designers in Rybinsk— KB in the factory and in other cities in Aero clubs, various laboratories and scientific-technical centers. The employee of the Moscow STC "Istok" Valery NOVOSELTSEV is your option of improving performance of the known motor.
The article describes the work on modernization of the RMZ-640 "Buran". The participants were set a task to improve the performance of the widely used engine. One of the main activities for the implementation of this task was to test design back plate valves.
In our case, we use the serial engine serial No. 88410219 that has worked before on double deltalat 46 hours. The stated plant capacity of this engine is 28 HP at 5500 rpm. It is equipped with a V-belt reducer with the transmission ratio 1:2,15, a propeller with a diameter of 1.6
m and pitch of 0.79 m, and standard plugs А17ДВ and carb-TO-62Ж with a cone diameter of 32 mm and a channel of the main nozzle with a diameter of 1.36 mm.